Staybull Flooring™ - Recycled Wood Flooring for Green Interiors
Edge Glued Plank Flooring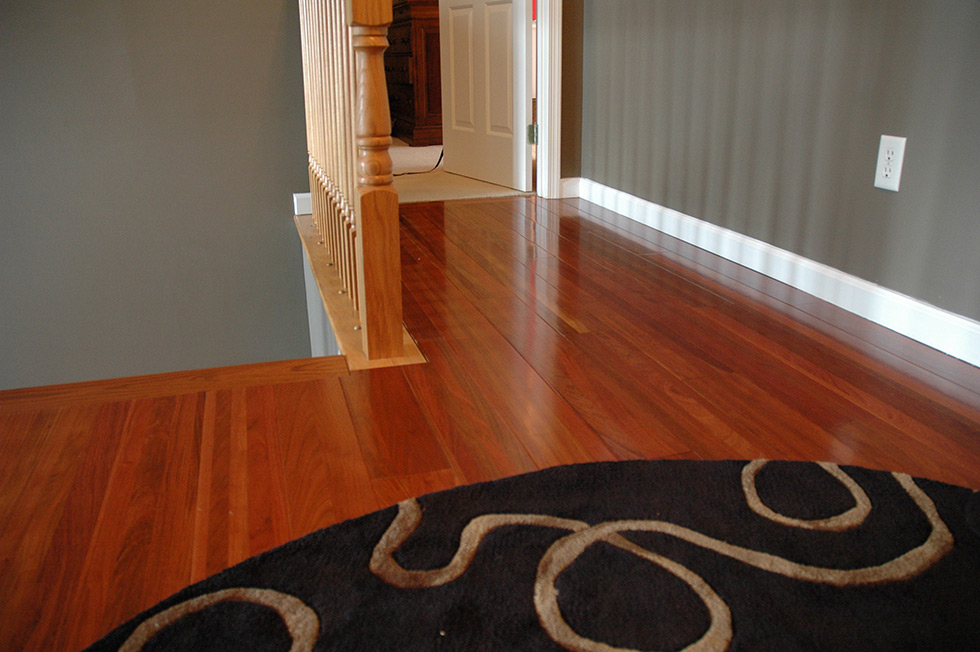 Discover more species and the advantages of recycled flooring from Staybull Flooring™.
Brazilian Cherry (Jatoba) - Brazil (Hymenaea Courbaril)
Jatoba heartwood is salmon red to orange-brown marked with dark brown streaks. It has a golden luster. Grain is usually interlocked with a medium to coarse texture.
Staybull Flooring™ - Prefinished Brazilian Cherry (Jatoba)
Product Specs:
Product Construction: Edge glued wide plank flooring
Finish: Prefinished (multi-coat, U.V. & scratch resistant finish)
Width: 5"
Average Length: approx. 5 ft. (compared to 3 ft. typically for standard hardwood flooring)
Length Range: 1-7 ft.
Thickness: 3/4"
Staybull Flooring Product Benefits:
Increased Stability - Resists cupping & twisting which often occurs in traditional solid wide plank flooring. This added stability is a result of gluing multiple narrow pieces of wood together, eliminating the tension normally found in wide, solid pieces of lumber.
Designer Look - Unique "one of a kind" beauty.
Expanded Installation Options - Staybull Flooring™ is an innovative hardwood flooring product that can be either nailed to a traditional wood subfloor or, in most cases, can be glued to an aged concrete slab.
Long Lasting Beauty - Unlike engineered flooring which has just a thin "wear" layer Staybull Flooring™ can be sanded & refinished, if needed, after many years of use.
Economical Options - Many hardwood species that we offer are very affordable flooring options.
Long lengths - Our advanced manufacturing process yields a much longer average length than the flooring industry standard. With Staybull Flooring™ you do not have to deal with the abundance of 1 to 2 foot pieces that are commonly shipped with traditional flooring.
Truly Green - Some "environmental friendly" flooring is not what it appears to be. A large percentage of bamboo flooring is manufactured with formaldehyde glues which can emit toxins throughout your home. Staybull Flooring™ is free of any harmful glues or finishes.