Ipe Oil® Hardwood Deck Finish
Professional Grade Deck Oil Developed Just for Ipe, Cumaru, Tigerwood & Other Hardwoods
What if you could extend the life of your hardwood deck without having to refinish it?
Leave the sander in your garage and pick up a can of Ipe Oil® instead! Don't let the name on the can fool you, Ipe Oil® is specially formulated to replenish the look of the toughest decking materials on the planet.
Whether you have a Cumaru deck, or want to freshen up the look of your Tigerwood patio, you can use Ipe Oil® with confidence.
What You Get with Ipe Oil®
Excellent protection from harmful UV rays
A fast & easy way to liven up the look of your hardwood deck
An way to extend the life of your deck without hiring someone to refinish it

How to Apply Ipe Oil® on Your Hardwood Deck
Remove dirt and debris from deck surface & in between gaps
Pre-rinse hardwood deck with a garden hose.
Wait until the surface is completely dry (at least 24 hours in most areas).
Use a 3/8" paint roller to apply
Using a dry rag, rub in any excess or pooled liquid that remains after 5 minutes
Let dry completely.
Properly dispose of can and rags - Do NOT leave cans & used rags exposed to the elements
FOR BEST RESULTS:
Avoid applying:

Under full sun
If rain is forecast within 24 hours
In extreme hot or cold temperatures
More than once per season
How to Buy Ipe Oil®
Ipe Oil®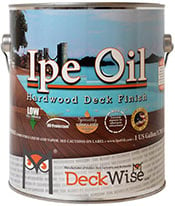 VOC Compliant. Specially formulated for use on Ipe and other exotic hardwood products, this finish is perfect for all the decking species that we offer. Ipe Oil® offers excellent UV protection that will keep your deck as beautiful as the day it was installed. 1 gallon covers approximately 300 square feet.
Learn more about Ipe Oil®.
Low 250 g/l VOC Formula (SCAQMD [SoCal] 100 g/l VOC restrictions apply for LA-Eastern, LA-Western, Orange, Riverside, and San Bernardino counties. Ask for the Ipe Oil® 100 VOC formula if you reside in these counties.)