Wood Decking from AdvantageLumber.com
Discover Why Advantage Decking® Outlasts & Outperforms other Materials!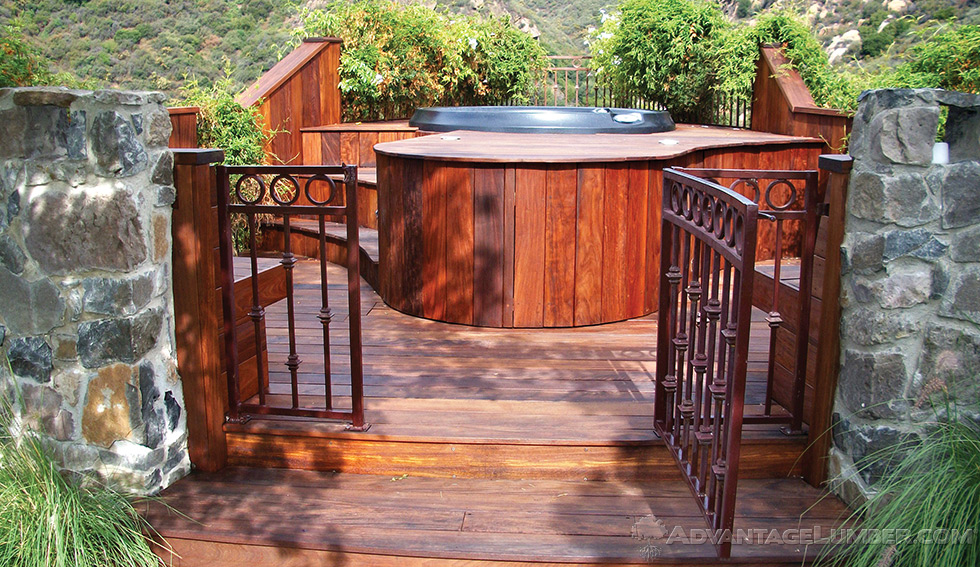 YOU SUPPLY THE VIEW. WE SUPPLY THE WOOD.™
A Real Wood Deck
Naturally Durable - Truly Dependable - Don't You Deserve the Real Thing?
Decks made of our authentic hardwood are proven to be dependable, durable, and a great value. Is it any wonder why Advantage Decking® is the preferred choice among professional deck builders and contractors?
Advantage Wood Decking Options
Discover the benefits of Advantage Decking® and see why contractors, architects, and homeowners love the real, natural look of our exotic woods over composite decking material. With its low maintenance qualities and decades-long lifespan, you can build your next deck knowing you've chosen genuine hardwood that is proven to withstand anything you or Mother Nature throws at it.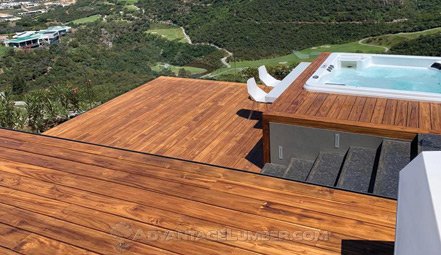 Teak Decking
Appearance: The heartwood is a uniform golden brown without markings. Grain is usually straight to slightly wavy. Texture is coarse, uneven and oily to the touch, sometimes with a white glistening deposit.
Hardness: 1070lbs
Bending Strength: 14,600 psi
Benefits: Low maintenance. Grown in plantations to protect the environment and prevent deforestation.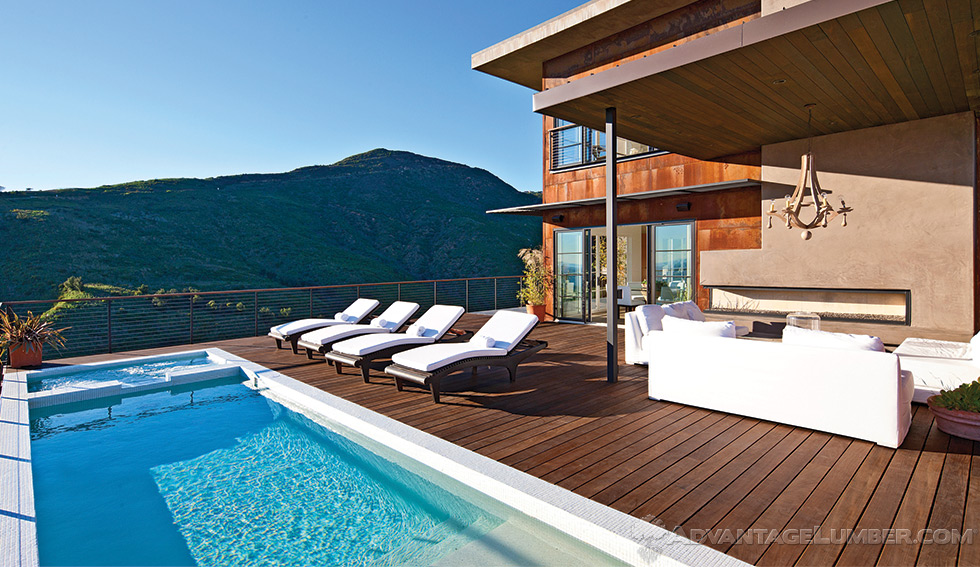 Ipe Decking (Brazilian Walnut)
Appearance: An extremely dense, tight grained wood. Boards display a deep rich brown with some pieces displaying red and amber hues.
Hardness: 3680lbs - 8x Harder than Redwood
Bending Strength: 25,400 psi
Benefits: Low maintenance. Highest rating for insect (termite) & decay resistance. Proven lifespan of 75+ years.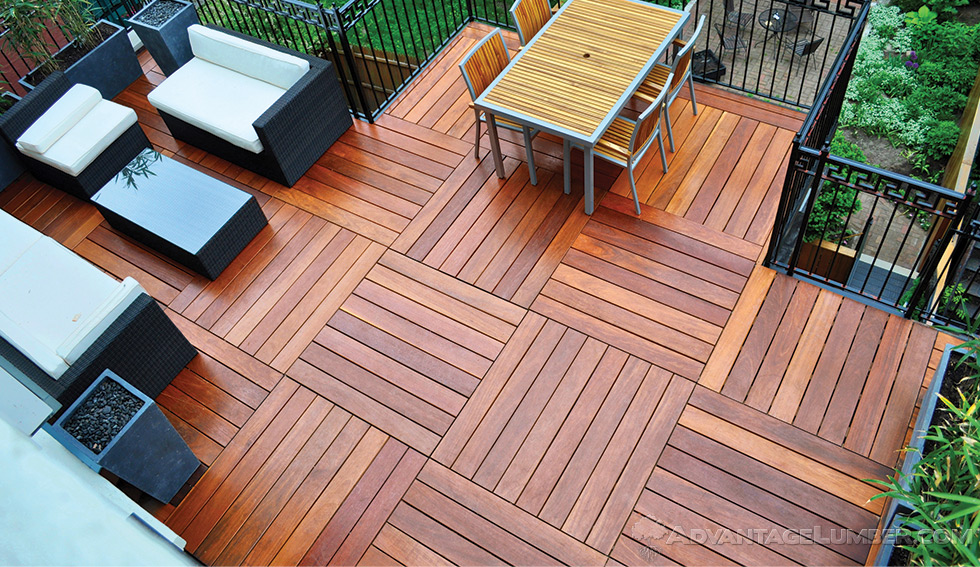 Cumaru Decking (Brazilian Teak)
Appearance: Color variation includes honey to reddish brown with dark grain accents throughout the wood.
Hardness: 3540 lbs - 8x Harder than Redwood
Bending Strength: 24,800 psi
Benefits: Low maintenance. Extremely durable. Naturally resistant to decay. Offers 50+ year lifespan.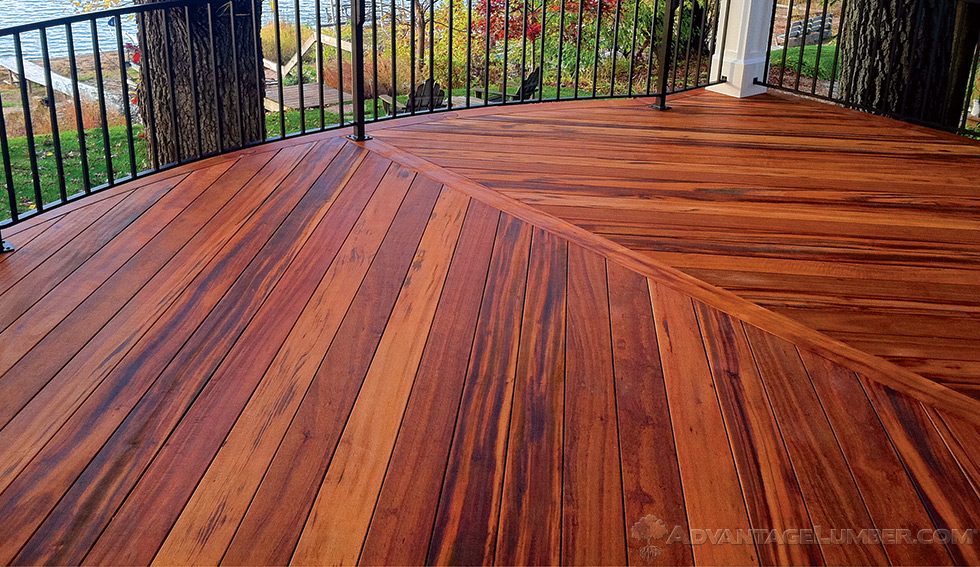 Tigerwood Decking (Brazilian Koa)
Appearance: Light golden brown to brown with irregular black and brown streaks.
Hardness: 2170 lbs. - 2x Harder than Cedar
Bending Strength: 19,285 psi
Benefits: Low maintenance and naturally durable. Offers 30+ year lifespan.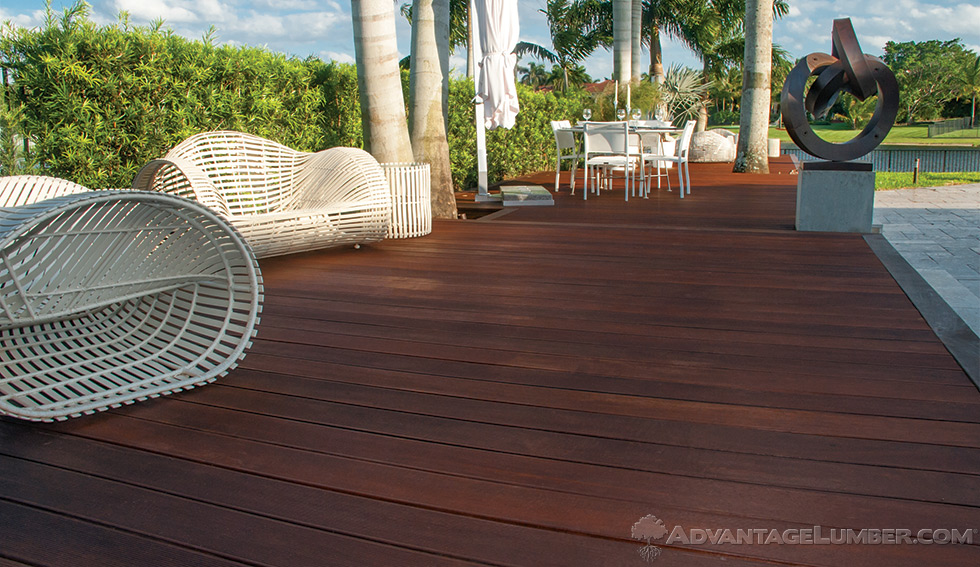 Massaranduba Decking (Brazilian Redwood)
Appearance: Velvet red to dark reddish brown with straight grain and a fine texture. One side of the surface is anti-slip and the opposite surface is smooth for a more traditional look.
Hardness: 3190lbs - 7.5x Harder than Redwood
Bending Strength: 27,280 psi
Benefits: Excellent durability and low maintenance. Exceptional resistance to rot, decay, and insects. 30+ year lifespan.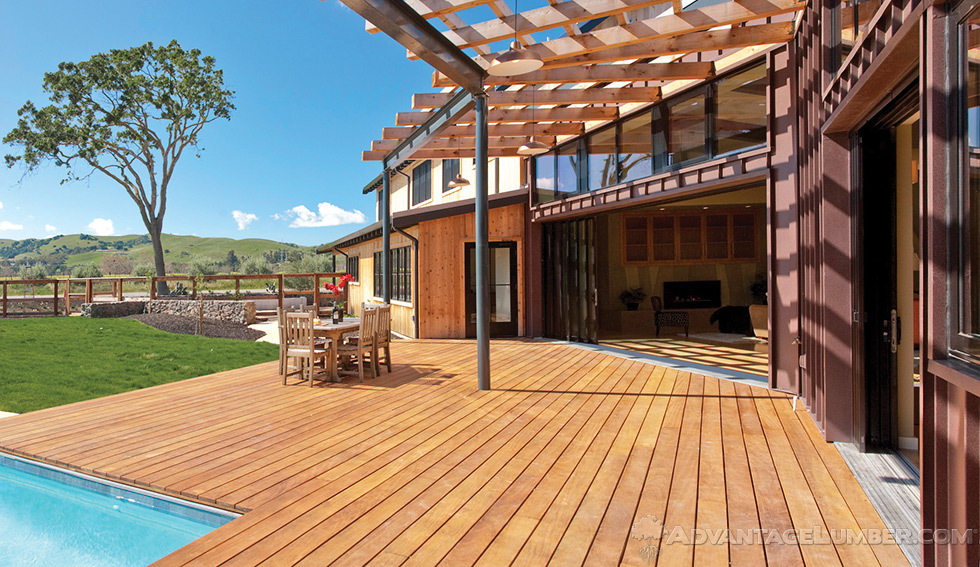 Garapa Decking (Brazilian Ash)
Appearance: A fine-grained hardwood that has light yellow to warm golden hues.
Hardness: 1650 lbs - 3x Harder than Redwood
Bending Strength: 12,900 psi
Benefits: Durable and naturally resistant to rot, decay, and splinters without any chemical treatments. Offers 30+ year lifespan.
The Top 7 Benefits of Advantage Hardwood Decking:
An eye-catching array of natural colors & patterns
Ultra low maintenance (no stripping or excessive sanding required)
Average lifetime exceeds cedar, pine, redwood, and synthetic decking
Excellent performance in extreme climates (hot / cold, wet / arid)
Chemical-free resistance to mold, decay, & even termites
Sustainably harvested from well-managed forests
Less expensive than PVC, capstock, & composite decking and free of problems like peeling, excess mold spots, etc.
Decking Profiles
Click any of the profiles below for an interactive 3D preview.
Standard: Easy to install, this basic decking profile is a classic suitable for any application.
Pregrooved: Designed to be used with hidden deck fasteners, pregrooved decking gives you a flawless deck surface.
Tongue & Groove: Perfect for use in covered porches or other applications where the decking will be protected from moisture.
Decking Price Quote
If you value longevity, looks, and return on investment, then choosing genuine Advantage Hardwood Decking is a sound decision you can make with confidence. We offer a number of ways to buy wood decking from us. Whether you call, click, or email, you will work with a professional who is here to assist you throughout the entire process!
Deck Calculator
Square Footage Calculator for T&G Porch Decking
Wood Decking Thickness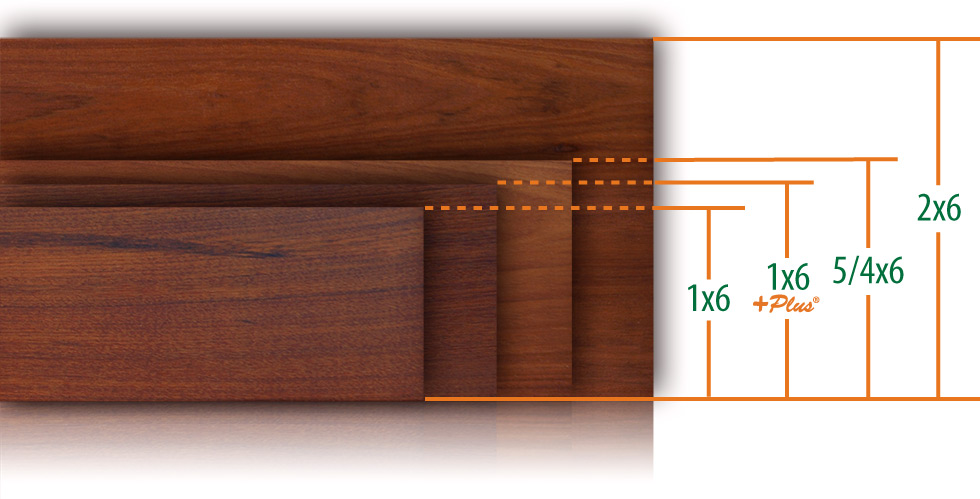 1x6 - "finished" dimension 3/4" thick
5/4x6 - "finished" dimension 1" thick
2x6 - "finished" dimension 1 1/2 " thick
Wood Decking Shipping Times
City, State
Time
City, State
Time
Baltimore , Maryland (MD)
1-2 Days
Minneapolis, Minnesota (MN)
3-5 Days
Boston, Massachusetts (MA)
2-3 Days
Nashville, Tennessee (TN)
2-3 Days
Charlotte, North Carolina (NC)
1-2 Days
Orlando, Florida (FL)
1-2 Days
Chicago, Illinois (IL)
2-4 Days
Philadelphia,
Pennsylvania (PA)
1-2 Days
Cincinnati, Ohio (OH)
1-2 Days
Pittsburgh, Pennsylvania (PA)
1-2 Days
Dallas, Texas (TX)
3-4 Days
Raleigh, North Carolina (NC)
1-2 Days
Denver, Colorado (CO)
4-5 Days
Richmond, Virginia (VA)
1-2 Days
Greenville, South Carolina (SC)
1-2 Days
Salt Lake City, Utah (UT)
4-5 Days
Kansas City, Missouri (MO)
3-4 Days
San Diego, California (CA)
1-2 Days
Long Island, New York (NY)
1-3 Days
San Francisco, California (CA)
1-2 Days
Los Angeles, California (CA)
1-2 Days
Seattle, Washington (WA)
5+ Days
Memphis, Tennessee (TN)
2-3 Days
Tampa, Florida (FL)
1-2 Days
New Jersey
1-3 Days
NJ Coast
1-3 Days
Shipping Times May VARY... Please Contact Us For Exact Shipping Times and Rates