Deck Pictures Gallery
An AdvantageLumber.com picture is worth a thousand words.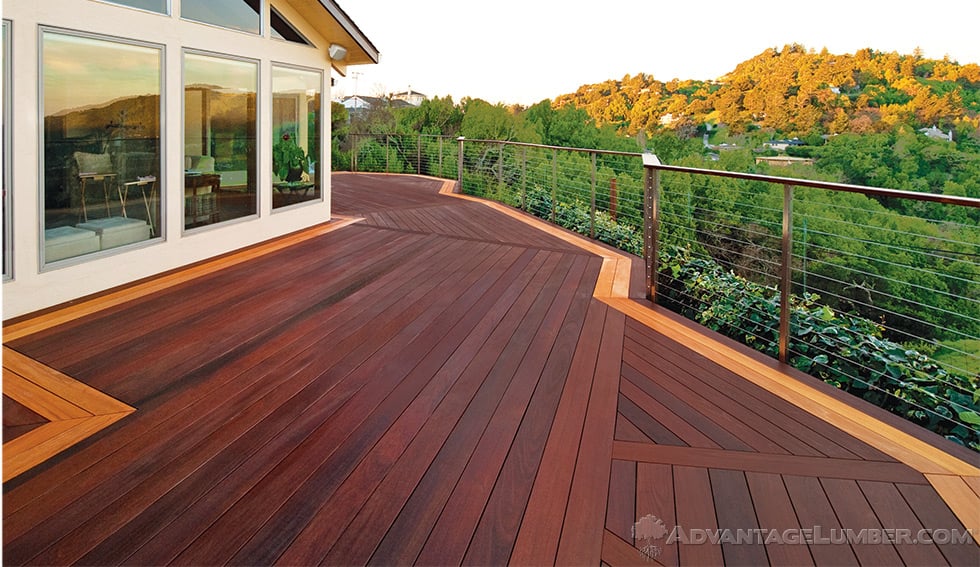 Deck Photo Gallery
Discover how AdvantageLumber.com uses modern machinery to create hardwood decking that is built to last in any climate. If you like what you see, check out the available species of decking, or see more pictures of featured projects here in the United States and the world.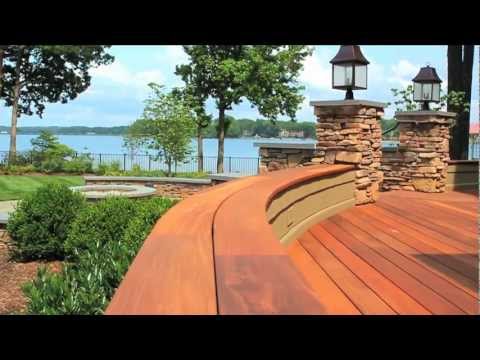 DeckBusters™ - See Deck Materials Put to the Test!
DeckBusters took a variety of decking materials to some of the most rigorous tests we could have imagined.
What happens when you put a hot torch flame on composite decking? Does capstock decking survive getting cut with an axe? Can an Ipe board hold the weight of an SUV? Find out by watching DeckBusters!
Ipe Deck Pictures Gallery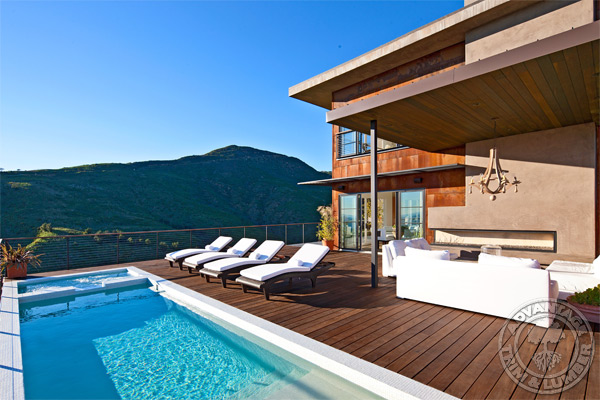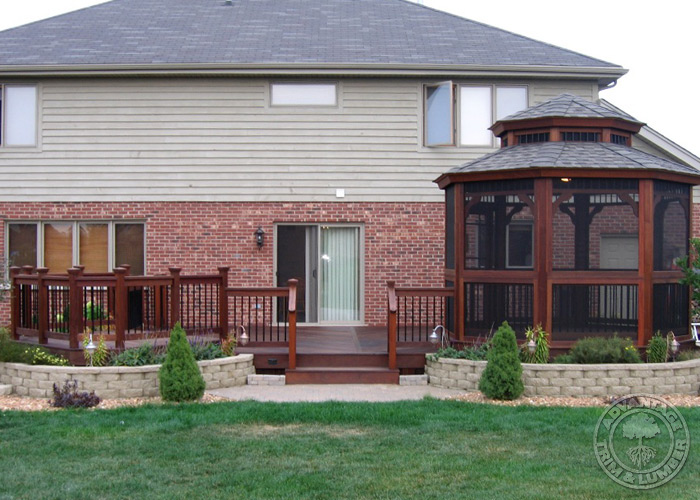 Ipe Deck & Gazebo
This stunning and beautiful backyard is the perfect example of how Ipe incorporates itself into any design that your heart desires. Ipe doesn't limit itself to just decking, but it's beauty can be appreciated in hand rails, posts, and even in the design of a beautiful Gazebo.
View more pictures of this beautiful project >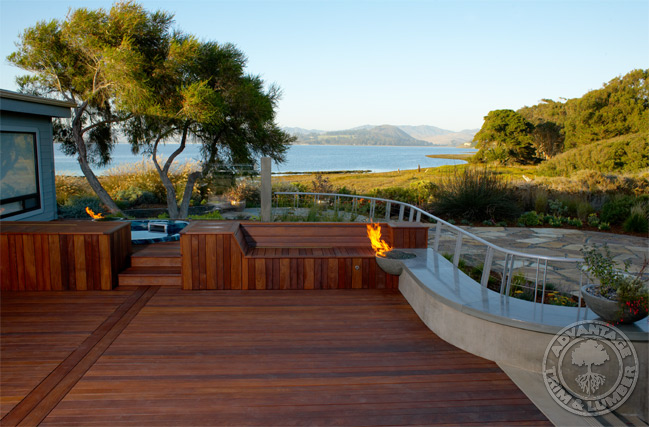 Ipe Deck w/ Concrete
The overall project is an exercise in challenging the norms! Usually when people think of concrete, they neglect any notion of wood being integrated, and the opposite is true as well. However, the design of this entire outdoor get away incorporated both materials to create a beautiful and unique space.
Ipe + Concrete = Perfection. Visit the Gallery >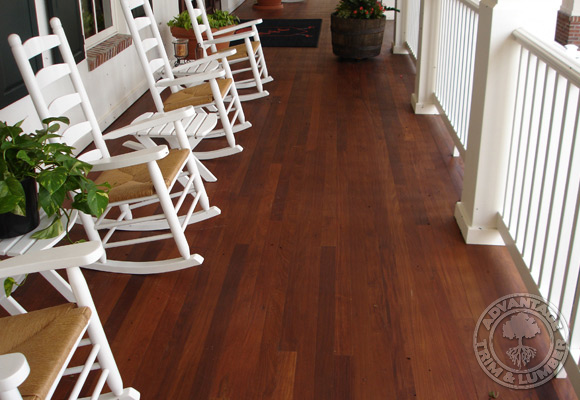 Ipe T&G Decking
Creating a beautiful porch just got easier! Throw all the norms away and bring the beauty of hardwood floors to the front steps of your home. This porch incorporated the best aspects of the interior and translated to a beautiful porch almost all year round.
Ipe Porch Decking at its Finest. Visit the Gallery >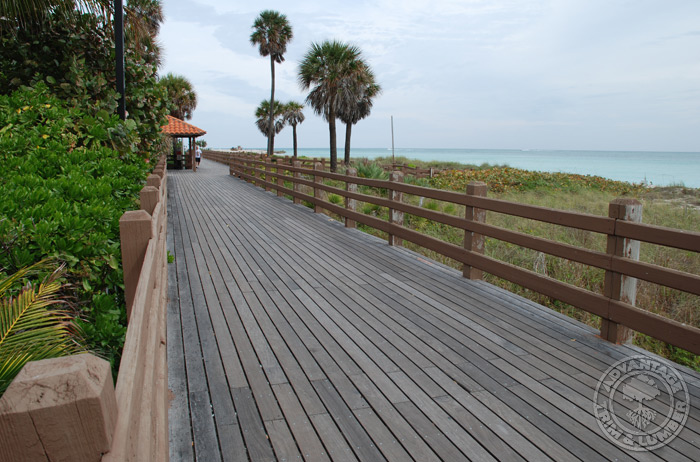 Commercial Applications
Beauty and strength are characteristics that attract homeowners to Ipe, but it is also qualities that make it the best wood to use in commercial applications. Its legendary strength and hardness make it one of the most durable woods, perfect for docks piers and any outdoor commercial use.
Ipe Stands Up to Heavy Abuse. Visit the Gallery >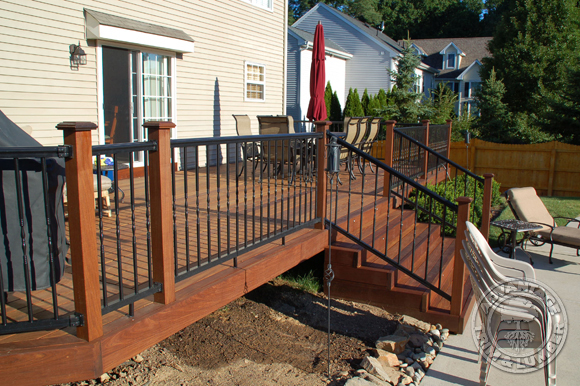 Tigerwood Deck Pictures Gallery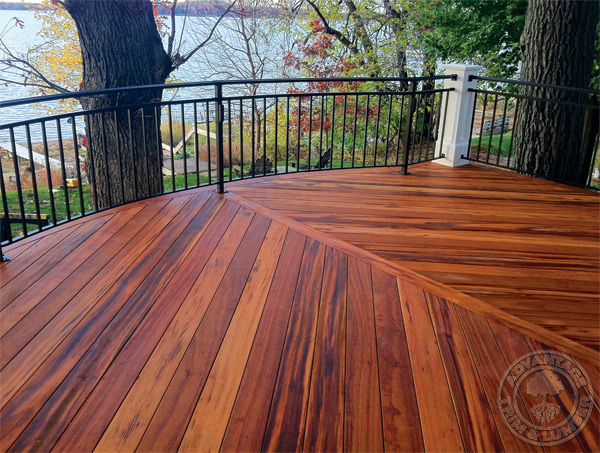 Tigerwood Gallery
Tigerwood is one of the most exotic looking woods in the world. Its beauty and one of a kind characteristic make it an appealing and highly desired wood. If you're looking to make your backyard retreat distinctive, take a look at our gallery and let your imagination grow.
Exotic Tigerwood Decking. Visit the Gallery >
Cumaru Deck Pictures Gallery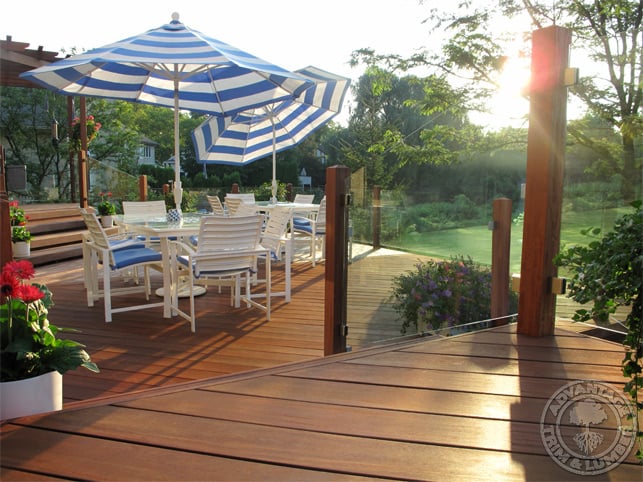 Cumaru Gallery
The most amazing feature of Cumaru is its grain patterns coupled with its color variations. Cumaru has one of the most beautiful grain patters of any wood available, and it definitely stands out once a deck is finished. Take a look at the beautiful decks done with our Cumaru and inspire yourself!
Durable, Beautiful Cumaru Decking. Visit the Gallery >
Garapa Deck Pictures Gallery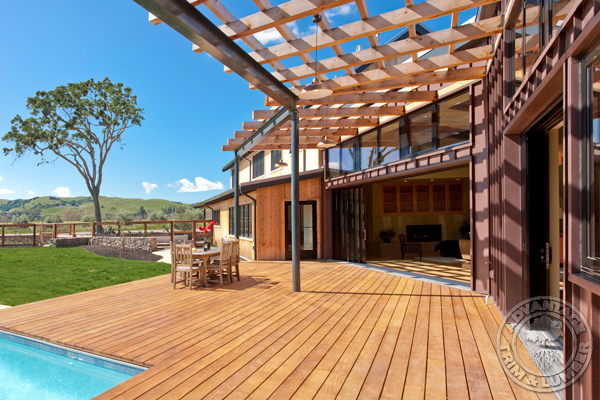 Featured Projects Gallery
Explore Advantage Galleries