Advantage Deck Tiles®
Transform your outdoor living area with real hard wood deck tiles from AdvantageLumber.com.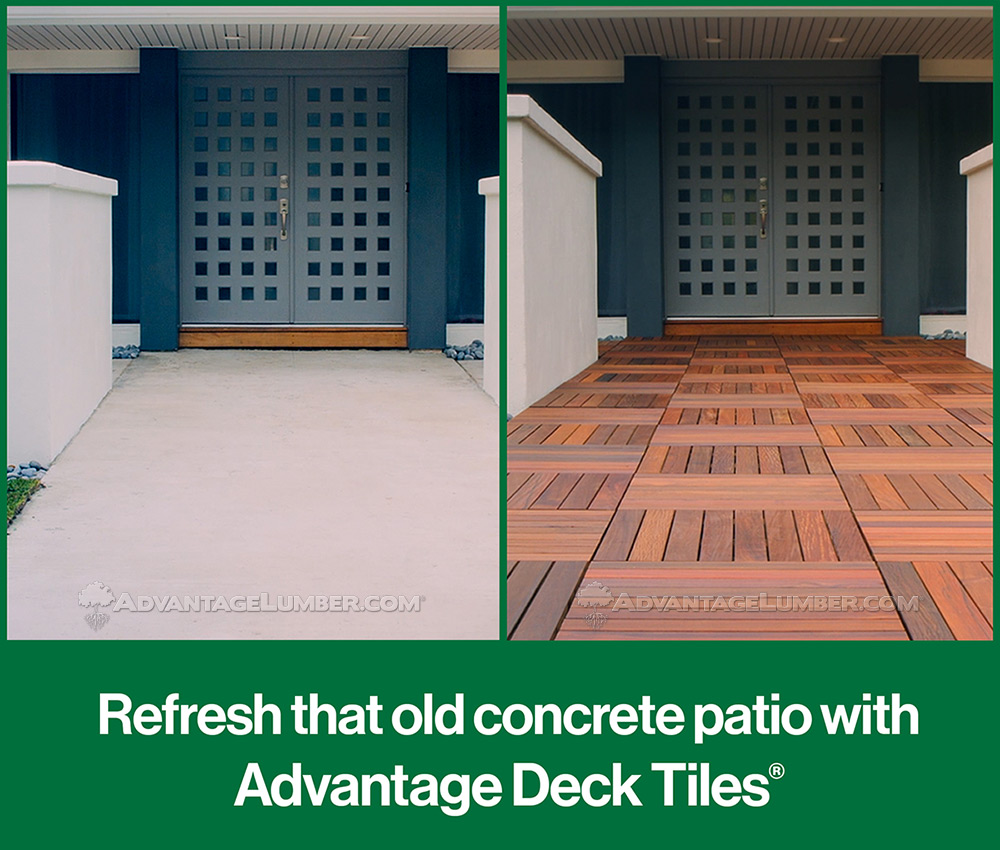 Deck Tile Kits
Save on your next project!
Shop Now
Real Wood Deck Tiles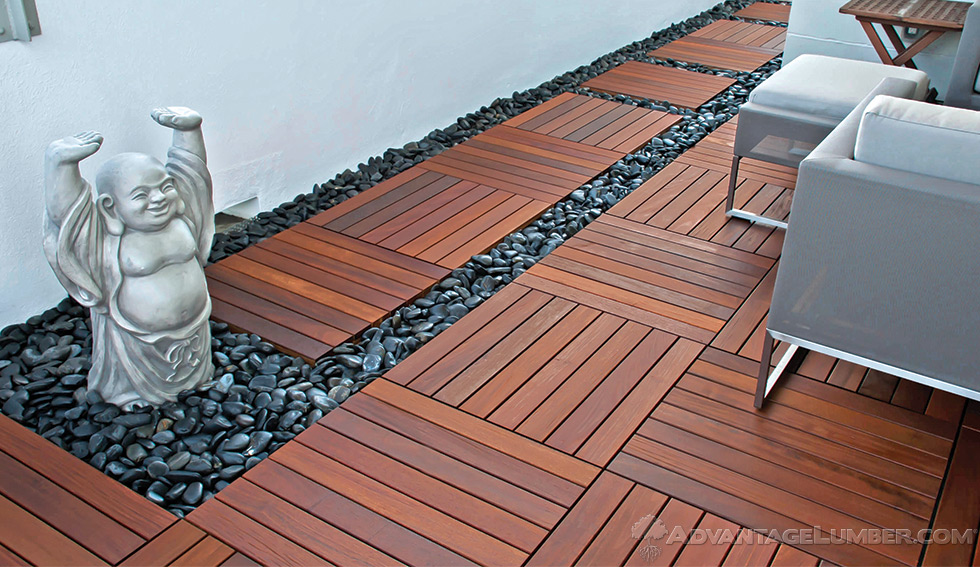 Inexpensive and easy-to-install. But those are not the only reasons why you want to buy them. Customers who remodel their old patio, balcony, or roof with Advantage Deck Tiles® do so because they want a genuinely beautiful outdoor living space that lasts. While settling for painting over their existing surface is always an option, they want something better, more natural.
Advantage Deck Tiles® give you:
An attractive, dynamic looking surface
An easy-to-install deck that takes hours, not days
All the durability & resilience of long-length hardwood decking
A solid solution to renovating concrete decks & patios
Years of hassle-free use without any required maintenance
Built using all stainless steel hardware
Many of our customers prefer to install Advantage Deck Tiles® over cracked concrete patios. As you can see from the gallery below, doing so will give you an eyesore you no longer have to live with!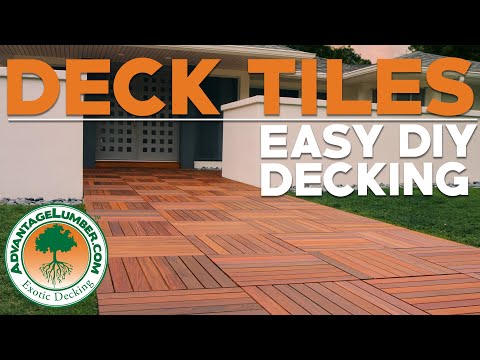 Teak Deck Tiles
Teak - Plantation Advantage Deck Tiles® 24 x 24 - Smooth
24x24 Teak Advantage Deck Tile® Kit
FSC Teak - Plantation Advantage Deck Tiles® 24 x 24 - Smooth
Brazilian Redwood (Massaranduba) Deck Tiles
Deck Tile Trim
Deck tile trim is available in all of our deck tiles species.
Deck Tile Connectors
DeckWise™ Deck Tile Connectors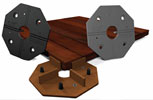 Simplify the deck tile installation process and never worry about loose or uneven gaps between tiles. The unique design of these connectors provides the easiest installation method for wood-backed hardwood decking tiles.
4mm (.15″) thick
Deck Pedestals
The Altitudes Pedestal™ System enables anyone to easily build an elevated, all-natural hardwood deck surface. Build over uneven surfaces - over pipes, drains, or slopes ‑ without the need to construct expensive framing.
DeckWise® Altitudes Pedestal™ System - SJB-4156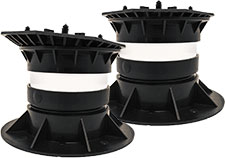 DeckWise® Altitudes Pedestal™ System - SPVC-2656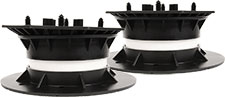 DeckWise® Altitudes Pedestal™ System - SPVC-15

Deck Tile Calculator
Find out how many tiles you need. You will need one deck tile connector for each tile.
Paradise is Only a Few Deck Tiles Away
Creating that special outdoor place is a lot easier than you think. If you have a balcony, terrace, rooftop concrete area, or any flat surface and you want the warmth that only all natural wood brings, our Deck Tile system is just what you need. Create that special place that you've always wanted and start enjoying the outdoor lifestyle.
Using Advantage Deck Tiles® will:
Gives you a solid wood surface to enjoy walking on.
Bring all the beauty and benefits of our hardwoods in an easy to install package.
Be as easy to install as putting together a small puzzle.
Provide you with options of having a straight look, like regular decking or a checkered pattern for that special look.
Featured Project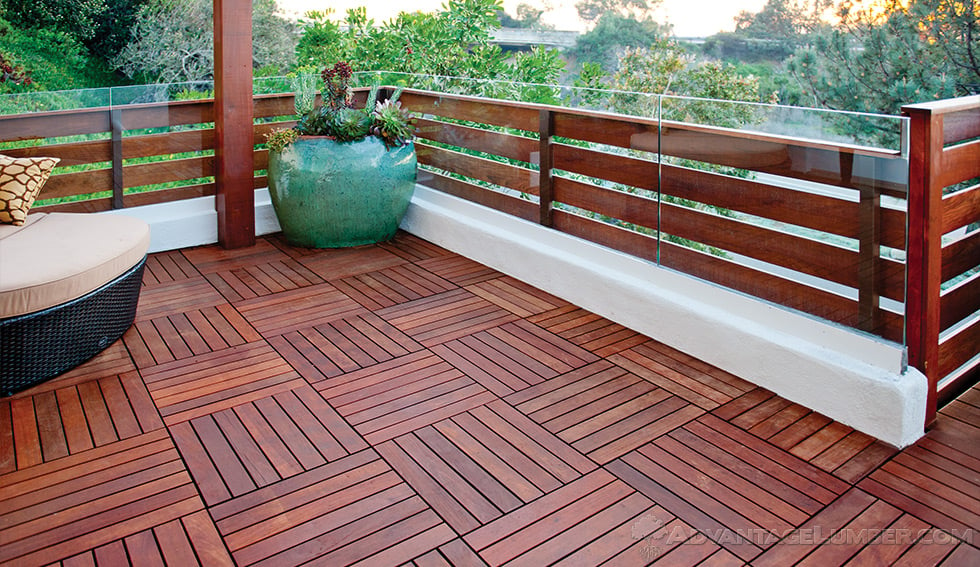 5-Level Ipe Deck with Fence & Deck Tiles
Del Mar, CA
Check It Out
All prices are subject to change without notice.
Why Advantage Deck Tiles® are Perfect for DIY Projects
See how one homeowner was able to use 24x24 Advantage Ipe Deck Tiles™ to create the perfect bridge between his patio and pool. By combining his experience as an architect and a father, this DIWF(do-it with-family) / DIY deck project was both an architectural and a family adventure!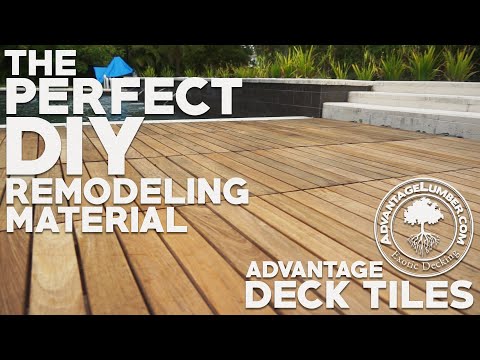 Want to Order Deck Tiles? Get A Quote