Hardwood Lumber Identifier

Extensive information on domestic & exotic hardwoods.

Jatoba ( Brazilian Cherry )

PHOTO

DESCRIPTION
Jatoba heartwood is salmon red to orange-brown marked with dark brown streaks. It has a golden luster. Grain is usually interlocked with a medium to coarse texture.
Weight is about 56lbs per cu .ft.
COUNTRY OF
ORIGIN

South America (Brazil)

BOTANICAL NAME
Hymenaea Courbaril
OTHER NAMES
Brazilian Cherry, Jutaby, West Indian Locust, Copal, Guapinal
MECHANICAL PROPERTIES
Very strong, hard and tough. Has very good bending characteristics. High shock resistance.
WORKING PROPERTIES
Moderately difficult to work due to to its high density. Moderate blunting effect on cutters. Nails poorly, but holds screws well. Glues and stains well, but does not take a high polish.
DURABILITY
Moderately durable, but non-durable when a high proportion of sapwood is present. Very resistant to termites and extremely resistant to preservative treatment.
SEASONING
Drying is rapid and difficult. Tendency for moderate surface checking, warping and case hardening. Slow drying is recommended. Small movement.
USES
Furniture, cabinetmaking, joinery, turning, tool handles, sporting goods, flooring, wheel rims.
COMMENTS
Second growth timber has wide sapwood of grayish-pink color and is sliced for decorative veneers.
Jatoba Lumber VS Other Common Lumber Species
Brazilian Cherry
(Jatoba)
Red Oak
Spruce Pine
Janka Hardness
2,820 lb
1,290 lb
700 lb
Modulus of Rupture
22,5110 lbf/in²
14,380 lbf/in²
14,380 lbf/in²
Elastic Modulus
2,745,000 lbf/in²
1,761,000 lbf/in²
1,405,000 lbf/in²
Crushing Strength
11,780 lbf/in²
6,780 lbf/in²
5,660 lbf/in²
Average Dry Weight
57 lbs/ft³
44 lbs/ft³
33 lbs/ft³
Brazilian Cherry Squares New Arrival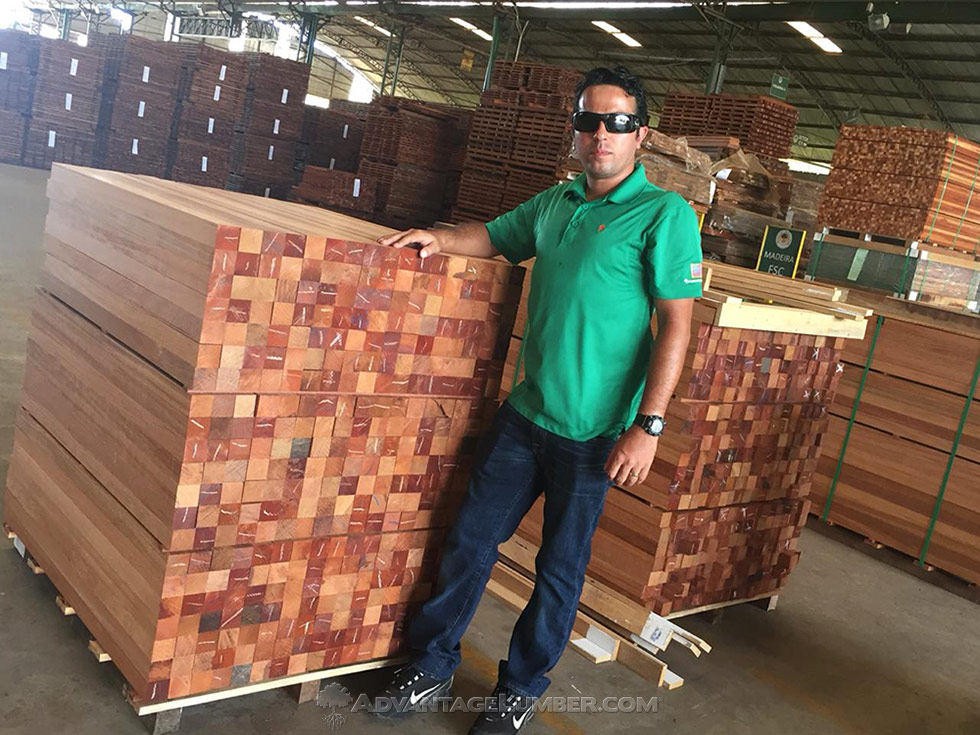 Brazilian Cherry (Jatoba) furniture squares coming off the line at our Brazil factory today. These aren't a normal item for us so we are selling them cheap. They make great butcher block table tops, furniture legs, turning squares, etc. they are kiln dried and surfaced 4 sides. Headed to our Florida mill soon for distribution to final customers. We also have some B grade ones that are even cheaper with some spalt/sapwood.
Additional Photos - Click on a thumbnail to enlarge
Brazilian Cherry Blanks New Arrival
Jatoba Beams
Brazilian Cherry Blanks Photos
Additional Photos