May 2010
Newsletter Archive
Featured Project of the Month: Anti-Slip Decking
Prestigious resorts in Jamaica buy materials from Advantage Trim & Lumber. Recently, we decided to see how the Anti-Slip Decking at the upscale Half Moon Resort in Jamaica fared in the intense heat and salt water environment. After years of use and exposure, the decking has exceeded expectations.
Anti-slip is a custom made profile designed to decrease the chances of liability and accidents. Popular in Europe, Anti-Slip decking is used for docks, walkways, ramps, and staircases where wet weather can lead to slips and falls.
>> Pictures of Anti-Slip Decking in Jamaica
>> Need an Anti-Slip Decking quote? ATL Wholesale Division
Tigerwood - Genuine Hardwood Strikes Back
Facts about Tigerwood: Naturally resistant to insects, wear, and decay. These properties give Tigerwood a minimum 25-40 year life span with zero maintenance. Also known as Brazilian Koa, Tigerwood is admired for its bold array of rusty orange and dark brown/black streaks.
>>See Tigerwood & Other Wood Decking Options
See Available Tigerwood Decking Profiles & Sizes
V-Groove Paneling Adds Depth to Walls & Ceilings
High end designers use V-Groove Paneling to add depth, dimension, and some flair to their best design plans.
Most people settle on cedar for v-groove paneling. But it's not your only option. Tigerwood can add some vibrant colors, and woods like Ash, or White Oak can be a nice contrast to darker rooms or furniture.
>> Email us to order or ask about V-Groove Paneling
How Eco-Friendly is Our Exotic Hardwood?
There's a lot of talk about eco-friendly wood. What are the facts? And, what makes ATL the leading supplier of eco-friendly and FSC wood?
>> Read our Eco-Friendly Wood Policy
Tip of the Month
Build a Better Deck
What tools and products are crucial to building a deck? What can you do to make your deck last longer and look better than your neighbors?
>> Learn More
Creative Uses for Short Lengths of Ipe
Ipe has been successfully used for decks, flooring, and siding applications across the world. But did you know that many wood workers also use it for some pretty ingenious uses?
Short lengths of Ipe can be used for:
High-end Cabinets

Coffee Tables

Rainscreens

Bed Frames

Many more...
>> Check out more uses for Ipe Decking Shorts
Keep Your Hardwood Floor Scuff-Free with this Tip
Trying to keep kids, your spouse and the nosy neighbor from scuffing up your beautiful floor can be tough. Here's a tip to keep your floors looking good...
You can use a tennis ball to remove scuff marks from your hardwood floor. This trick works best on hardwood that has a dull sheen to it, but it can slightly dull floors with a high gloss finish. Be sure to test it first on an out-of-the-way area first.
Save even more time by fastening the tennis ball to the end of a pole. You not only keep hardwood floors scuff free, you will also save your back in the process.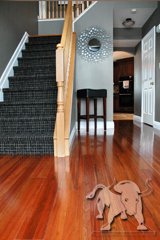 What is Coefficient of Friction?
Coefficient of Friction refers to how slip resistant a material is. The Occupational Safety & Health Admin. advises that walking surfaces have a static coefficient of friction of 0.5.
Many permits have been ripped up because the builder assumed that their choice of flooring material was to code and accessible by disabled persons.
Staybull Flooring™ has a finish with an average CoF (Coefficient of Friction) for Eco-Shield™ surfaces that reads ≥ 0.5. This rating complies with building code requirements for a wide variety of applications.