Synergy Wood® Ceiling and Siding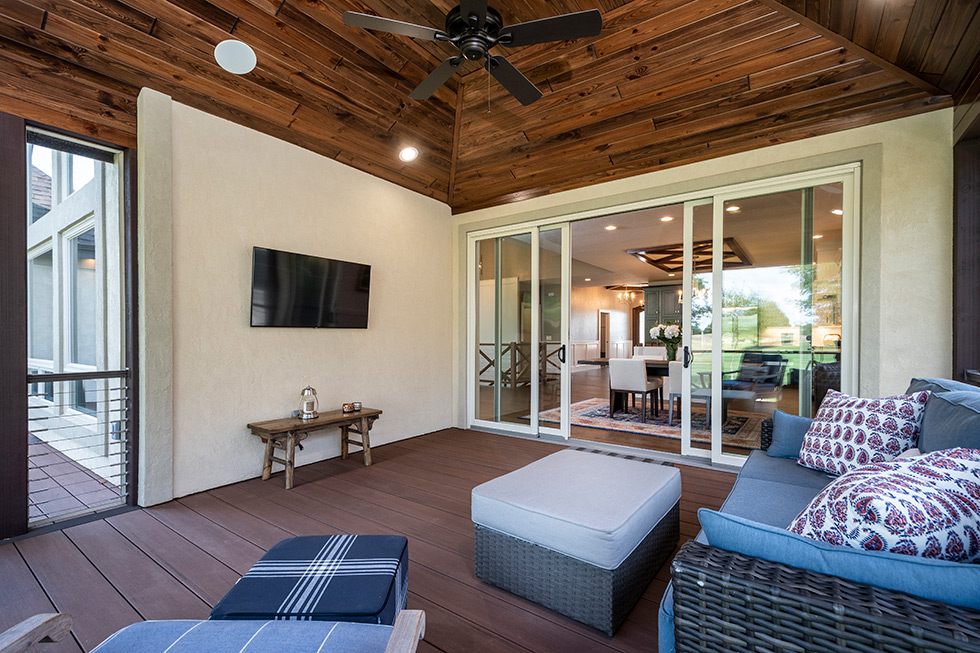 Synergy Wood® enhances the natural beauty of solid wood with a rich selection of finishing options. These prefinished, end-matched tongue and groove boards are perfect for accent walls or ceilings. Each species comes in a wide variety of stain colors, grades, and edge profiles to match the look of any project and create a warm and inviting space for our customers to enjoy for years to come.
Synergy Wood® uses only 100% kiln-dried, solid wood which is sustainably sourced and harvested. Using real solid wood from different species means our planks will have variations in grain color and pattern, as well as knot structure—everything nature intended. Synergy Wood® takes wood quality very seriously and hand selects and re-grades each piece as it enters their plant.
Save time and money with Synergy Wood® products. The professional factory finish saves countless hours of installation time and yields a more professional end result. The end-matched planks come with a tongue and groove on the ends so you don't have to worry about cutting each piece to land on a rafter or furring strip.
Decades' of experience and proprietary processes have earned Synergy Wood® the reputation as leading expert in prefinished wood. Since 2007, Synergy Wood® products have been installed in a multitude of environments spanning a variety of markets, from single- and multifamily residential to commercial, retail and hospitality, throughout the nation.
Proudly Made in America
100% Solid Wood
State-of-the-Art Machinery
Skilled Artisans
Handcrafted and Prefinished
Tongue and Groove, End-matched
Easy to Install - Less Waste
Quality and Durable Products
Nickel Joint, V-joint and Square Edge
Hand-Selected Wood Boards
Shop Synergy Wood® Products
Synergy Wood® Profiles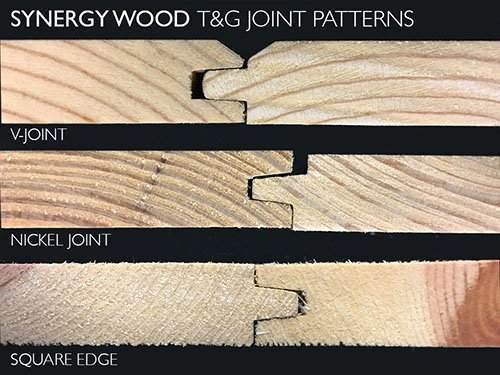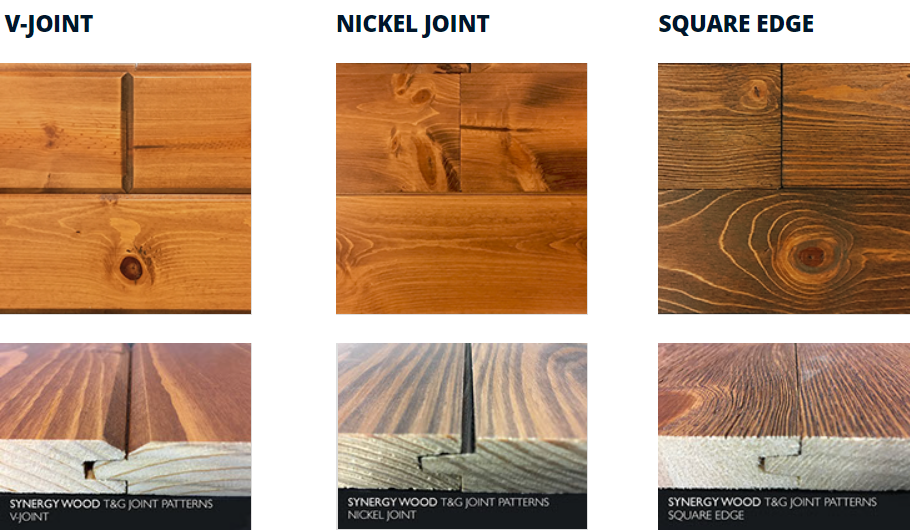 T&G 101: What is V-Joint, Nickel Joint and Square Edge?
All Synergy Wood products are made with tongue and groove joints. Tongue and groove is the preferred method of fitting our wood boards together, edge to edge. Tongue and groove joints allow two wood planks to be joined strongly together to make a single flat surface and conceal the effect of wood shrinkage. "Tongue and groove" is often abbreviated as T&G.
Each piece has a slot (the groove) cut all along one edge, and a thin, deep ridge (the tongue) on the opposite edge. The tongue projects a little less than the depth of the groove. Two or more pieces fit together closely.
Our wood boards are also end-matched. This method eliminates the need for additional joints, face nailing or the use of joints on framing.
The term "V-Joint" comes from the "V" created when two of our T&G boards come together. They form a V between the two boards. The T&G V-Joint pattern is used in our very popular Synergy Collection. The V-Joint pattern is often used in our wood ceiling applications.
NICKEL JOINT "SHIPLAP" LOOK
The term "Nickel Joint" or Nickel Gap" comes from the old craftsmen using actual nickels to space the wood - the width of a nickel. Our T&G profile has a square edge profile with a 1/8″ gap between the boards to ensure a seamless nickel gap. Nickel gap also gives the appearance of Shiplap but with a much stronger joint, ability to blind nail (hide the nails behind joint) and still have end-matching. Nickel joint is a clean look that is often used on wood walls and in replace of a shiplap look.
"Square Edge" joint pattern allows the wood to butt up close to each other. Often referred to as a "butt joint" Square Edge removes larger gaps like the Nickel joint or V-Joint. Synergy Wood uses Square Edge joint patterns on our rustic or brushed wood products. With a rough sawn board, square edge can give the look of a slight gap and added dimension. Very popular for our interior wall boards.