Trailer Decking
A Heavy-Duty Shiplap Profile for Industrial Use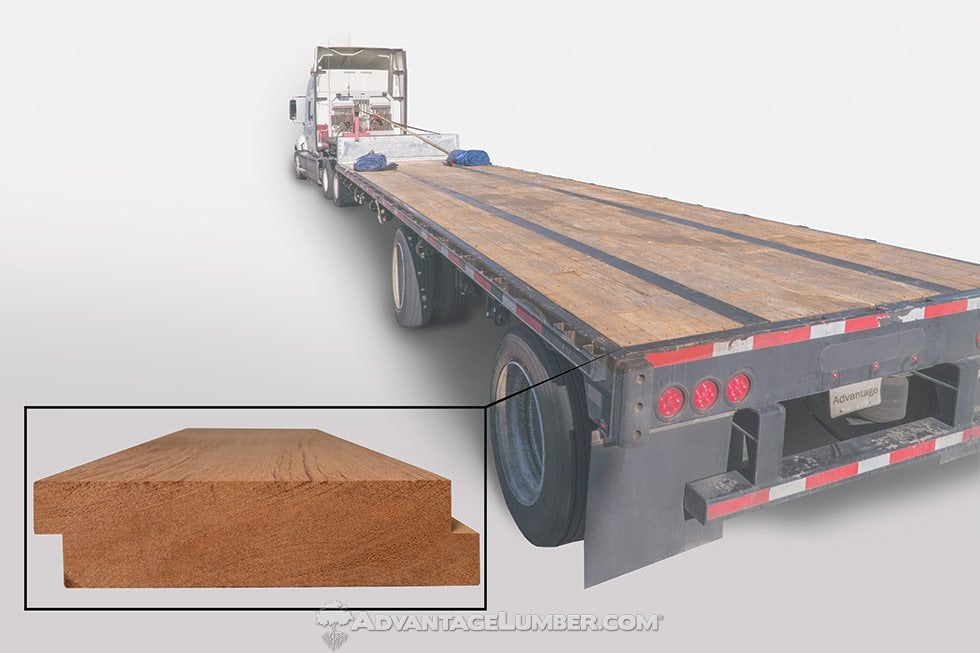 Shiplap hardwood trailer decking is now available! This hardwood is called Angelim Pedra, aka Brazilian Apitong, which is used for most of the high quality flatbed trailers and lowboy trailers in North America. Whether you have a small utility trailer or a fleet of flatbeds, give us a call for some deals on trailer decking.
Decking is sold in even and odd lengths between 6′ to 18′. We can pull your order to specific lengths.
Boards milled to specific lengths over 7′ will incur an additional upcharge:
$0.10 per lineal foot for 8′–14′ lengths
$0.80 per lineal foot for 15′–18′ lengths
$1.00 per lineal foot for 19′–20′ lengths
Angelim Pedra Trailer Decking Prices
Tongue & Groove decking is for use under covered porches only.
All measurements are approximate and may vary slightly.
All prices are subject to change without notice.
Other sizes available on request.
Beware of Shady Sellers
Some unscrupulous lumber companies charge hidden extra fees, ship low-grade material, and source their wood from unethical mills. Here are some questions to ask when buying your lumber:
Where is the material shipping from?
Has the seller actually seen the wood they're selling?
Can you visit their warehouse?
Our lumber is sustainably sourced directly from well managed forest and custom milled with our own machinery. We have a huge inventory that you're welcome to visit any time, and we work with the wood ourselves, so we can guarantee its quality. We don't charge extra insurance or packaging fees—we cover those for you!
In short, if a deal seems too good to be true, it probably is. Learn more about how to avoid bad lumber companies.
DeckWise® Trailer Decking Screws
Trailer Decking Photos