Trees For Us
Saving our Nation's Forests One Decking Order at a Time.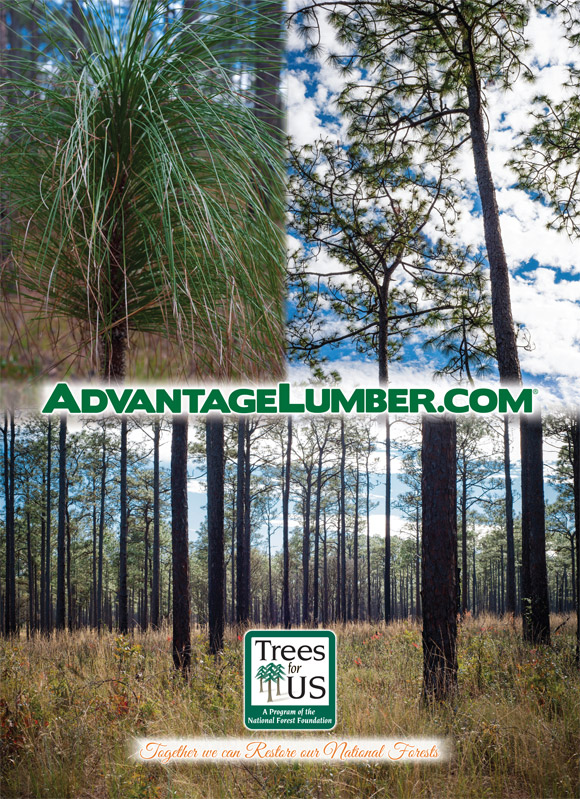 Since 1992 AdvantageLumber.com has had a commitment to sustainable forestry. We have always had the belief the forest should be valued and not destroyed. For over 20 years we have ensured the wood we sell comes from sustainable resources, and is in fact, having a positive contribution to the environment.
This year we wanted to take it a step further with our conservation efforts.  We realized that although it's great to ensure sustainably forestry in Brazil, that our own backyard needed a little attention. In 2014 Advantage Trim & Lumber began a partnership with the National Forest Foundation to make this a reality. Now, when you order your new deck, you will have a tree planted in your honor in the Ocala National Forest and the Chippewa National Forest.
The Ocala National Forest
The Ocala National Forest is one that has been hit relatively hard over the years. Large numbers of wildlife depend on this forest as its home. This is why we have dedicated tree planting efforts to this location. Long leaf pine will be planted throughout the forest and will contribute to wildlife and longevity of the forest.
The Ocala National Forest is also part of the National Forest Foundation's Treasured Landscapes, Unforgettable Experiences Campaign. This means there is a 1:1 match from the US Forest Service that goes toward other costs associated with planting trees. So not only will your decking order be planting a tree, you'll get an extra dollar to put towards restoration efforts.
The Chippewa National Forest
The Chippewa National Forest was the first National Forest established east of the Mississippi. This forest covers an area of over 650,000 acres and sits on the headwaters of the Mississippi River in Northern Minnesota.
In 2012 the Chippewa National Forest suffered a devastating storm. This storm produced hurricane speed winds and damaged a total of 134,000 acres. This year AdvantageLumber.com partnered with the National Forest Foundation to help replenish the forest from the disastrous storm. Our donations contributed to the replanting of 1.5 million seedlings. Half of these seeds are replenishing 900 acres of damaged forest, the other half are being planted for future timber harvest.
These efforts and opportunities allow us to make a difference in our National Forests. We pride ourselves in preserving the forests and ensuring that they will be around for future generations.
Click on a thumbnail to enlarge

Click Any OF The Thumbnails ABOVE To See A Larger Photo