Bowrench®
Deck Board Straightening Tool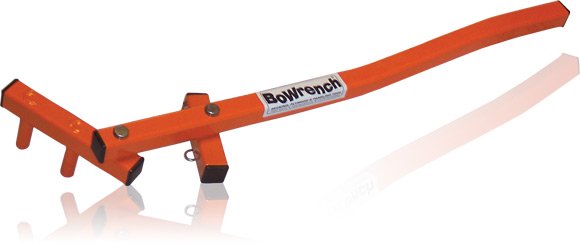 Bowrench ®
Straighten bowed deck boards with ease.
The Bowrench ® is a deceptively simple-looking tool which is a must have for both professional builders and do-it-yourselfers. The Bowrench ® operates easily with just one person needed to straighten deck boards.The Bowrench ® is compatible with any decking material... whether Ipe, Tigerwood, Cumaru, or Garapa... longer length deck board, above 15 foot long, have a tendency to be crooked or bowed.
To operate the Bowrench ®: The first step is to slide the tool onto the joist, pull the lever arm, and release. This tool is versatile as you can either push or pull boards into alignment. Plus, when the handle is perpendicular, the tool locks in place, holding the board securely and leaving both hands free to drive nails or screws.
Whether you are a contractor, remodeler, or home owner, you'll save money on materials with BoWrench, you'll save time with BoWrench, and you'll do better quality work with BoWrench.
Heavy duty & built to last! Pays for itself with just one job!
Bowrench ® Price
Bowrench®