Company Contact Information
We have locations located strategically throughout the United States & Canada to offer our customers the best shipping rates. Along with low shipping rates this also speeds up overall delivery times because we ship material out of all of locations. Please contact us for more information on shipping rates and times.
We ship our products throughout the US , Canada , Bahamas , Europe ...or anywhere else you may find yourself...
Phone Numbers
West Coast Contact Numbers:


California Factory:

(562) 205-1872

East Coast Contact Numbers:


New York Factory:

(716) 827-3915

North Carolina Factory:

(704) 471-9991

Florida Sawmill:

(941) 388-9299

Or you could contact us via our General Contact Form
New York Contact Information (primary contact)

Contact Method
Contact Info
Address
601 Ohio St.
Buffalo, NY 14203
Toll Free
1-877-232-3915
Local Phone
(716) 827-3915
Fax
(716) 827-3916
Manager
JLevakoff@AdvantageLumber.com
Media Relations Contact
| | |
| --- | --- |
| Contact Method | Contact Info |
| Address | 601 Ohio St., Buffalo NY 14203 |
| Toll Free | 1-877-232-3915 ext.152 |
| Local Phone | (716) 827-3915 |
| Email | divancic@advantagelumber.com |
North Carolina Contact Info
Contact Method
Contact Info
Address
2520 Blacksburg Rd.
Grover, NC 28073
Toll Free
1-877-500-4492
Local Phone
(704) 471-9991
Fax
(704) 471-9949
Manager
DSchiefer@AdvantageLumber.com
Our North Carolina production facility allows us to offer the best shipping rates throughout the entire United States, as well as Canada. Our new location also features a hardwood flooring outlet that is open to all walk-in customers.
CLICK HERE TO SEE A TOUR OF OUR NEW FACILITY
California Contact Info

Contact Method
Contact Info
Address
11517 Los Nietos Rd.
Santa Fe Springs, CA 90670
Local Phone
(562) 205-1872
Fax
(562) 205-1879
Manager
ECampos@AdvantageLumber.com
West coast customers can stop by our 50,000 square foot manufacturing and distrubtion facility. From this location, you will be able to get premium grade, sustainably harvested hardwood decking. Se Habla Espanol! FIND OUT MORE ABOUT OUR CALIFORNIA LOCATION >
Florida Contact Information


Contact Method
Contact Info
Address
7524 Commerce Pl
Sarasota, FL 34243

Local Phone
(941) 388-9299
Fax
(941) 388-0936
Manager
DJames@AdvantageLumber.com
Brazil Contact Information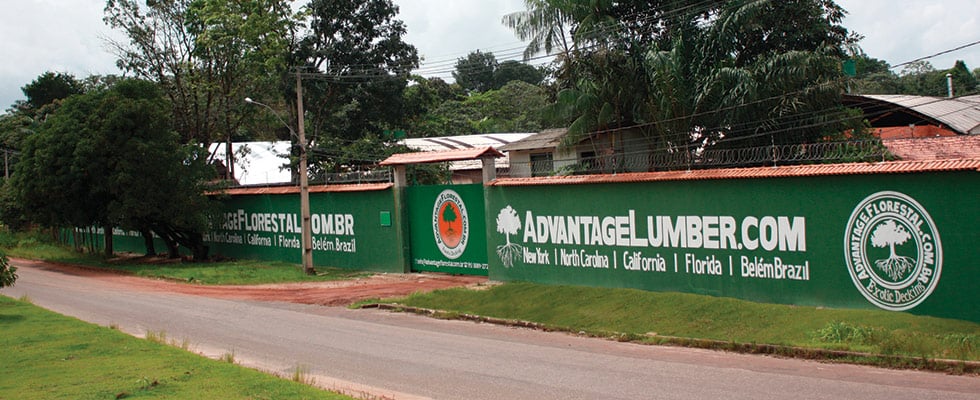 Brazil Processing Mill
Advantage Florestal
Rua Distrito Industrial, Quadra 06, lote 03, Setor D
Ananindeua, Para
Phone +55(91) 3017-5565
Brazil Sawmill
Benevides-Para-Brazil
Canada Contact Information
AdvantageLumber.com® Hours Of Operation

AdvantageLumber.com® Location Hours
Walk-In Office Hours
Monday - Friday
Saturday
Sunday
NY
8:30am - 5:00pm EST
8am - 12:00pm EST
Closed
NC
8:30am - 5:00pm EST
Closed
CA
8:30am - 5:00pm EST
8am - 12:00pm PST
FL
8:30am - 5:00pm EST
8am - 12:00pm EST
General Contact Form
Shipping and Ordering Information
Please Call (1.877.232.3915), e-mail or FAX us with your orders. We will call you to verify your order and to make payment arrangements. We ship large orders with our own trucks and drivers, across the US and Canada. We also have several other trucking companies that work with us at a 72% discount which we pass onto you. Orders can be shipped direct to your home or jobsite.  We can also hold orders at your local freight terminal for customer pickup. Small orders are shipped via UPS. We also ship to European and other foreign countries on container load basis. We ship anywhere in the world. Please phone or email if you have freight questions.
Transit Times
| | |
| --- | --- |
| Area | Transit Time |
| Northeast States | 1 to 2 days |
| Southern States | 2 to 3 days |
| Midwest States | 3 to 4 days |
| West coast | 1 to 2 days |
| European Countries | 3 weeks |