FSC® Tigerwood Decking
We have access to decking and lumber that is certified by the Forest Stewardship Council®
FSC Tigerwood
The Forest Stewardship Council® ( FSC ® ) is an independent, non-governmental, not for profit organization that was established to manage the responsible harvesting of the world's forests. The FSC label is only applied to products that are independently certified. This certification is to assure deck builders, architects, and homeowners that the products with the FSC® label on them come from forests that are managed to meet economic, social, and ecological needs of the land they are harvested in.
The certified FSC® Tigerwood Decking that we offer our customers is FSC® certified which ensures that all the FSC® decking materials are responsibly harvested. There are FSC® offices on site in Brazil, which are located at Conselho Brasileiro de Manejo Florestal. The office in Brazil works in conjunction with the lumber mills to provide our consumers with certified FSC® Tigerwood Decking.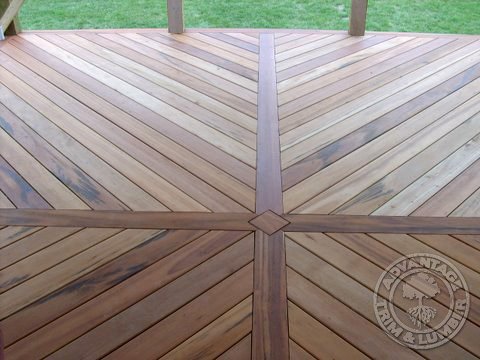 FSC® Tigerwood Decking Prices
CALL US TODAY FOR MORE INFO: Toll Free 1.877.232.3915
More About FSC® Wood & Decking
When you buy FSC® certified decking, you can rest assured that you are building a green deck using the most eco-friendly wood available.
We also offer certified FSC® Decking in the following species:
FSC® Lumber is available in a variety of exotic & domestic lumber species.