FSC® Cumaru Decking
We have access to decking and lumber that is certified by the Forest Stewardship Council®
FSC® Certified Cumaru
All of our FSC® Certified Cumaru Decking material is certified by the The Forest Stewardship Council® ( FSC ® ). As the leading voice in eco-friendly forestry practices, the Forest Stewardship Council® has created a set of strict guidelines to manage the processes involved in harvesting and cultivating exotic hardwood decking made of Cumaru.
When you choose to purchase FSC® Certified Cumaru Decking from us, you can proceed with confidence because of the fact that you are getting lumber that was responsibly harvested from sustainable forests. Decking material that is FSC® certified is produced in a manner that ensures conversion of natural forests and other habitats around the world. This is why, when attempting to gain LEED certification through the MRc7 & MRc5 credits, the use of FSC® wood is required.
FSC® certified Cumaru Decking is also processed with no added chemicals and is free of all preservatives. All of our FSC® certified cumaru decking materials are organic with no additives. When you order certified FSC® Cumaru Decking from us you will be sure to get a product that is free from chemicals and will last a very long time.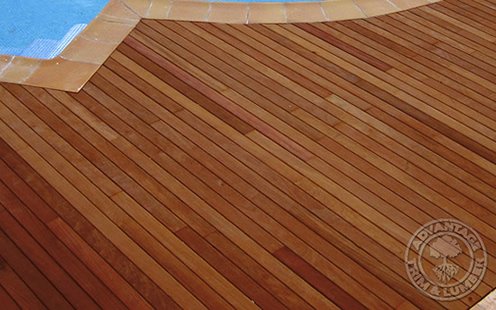 More About FSC® Wood & Decking
We also offer certified FSC® Decking in the following species:
HERE
for all of the
FSC® Flooring
that we offer.
FSC® Lumber is available in a variety of exotic & domestic lumber species.