Massaranduba Decking & Supplies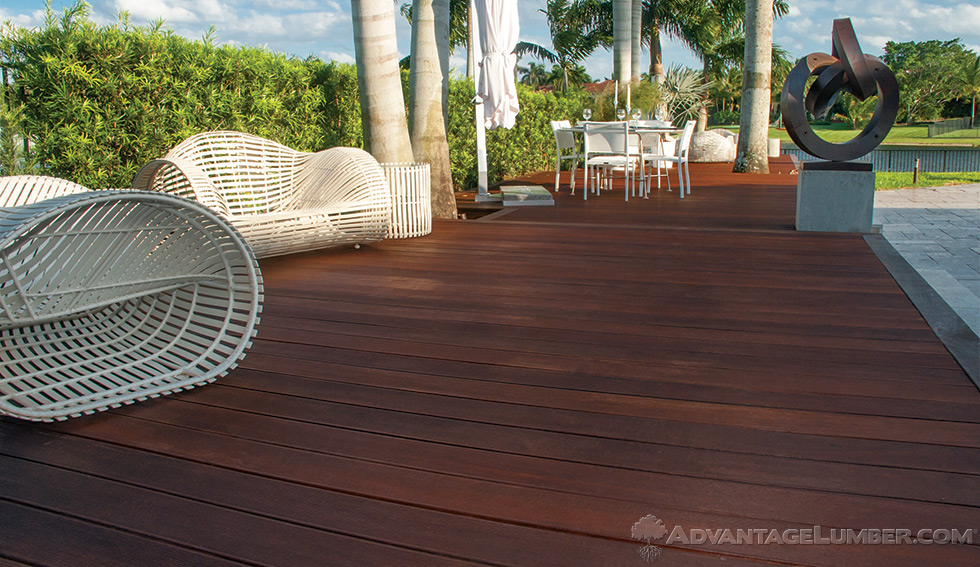 What is Massaranduba Decking?
Massaranduba (pronounced Ma-Sa-Ran-Doo-bah) is a hardwood native to South America. It bears the distinction of being one of the most beautiful and hardest woods in the world. One surprising fact about this natural hardwood is how well it performs under heavy load (bending strength) tests. These tests revealed that, as a decking material, Massaranduba is twice as strong as California Redwood and is even stronger than Ipe decking.
Sure, those technical statistics are impressive. But, the real driving force behind the popularity of our Massaranduba decking centers on one thing...that beautiful velvet red look. Many of our customers call us asking for California Redwood only to switch when they see the rich red look of Massaranduba.
See for yourself how Massaranduba compares to Redwood decking.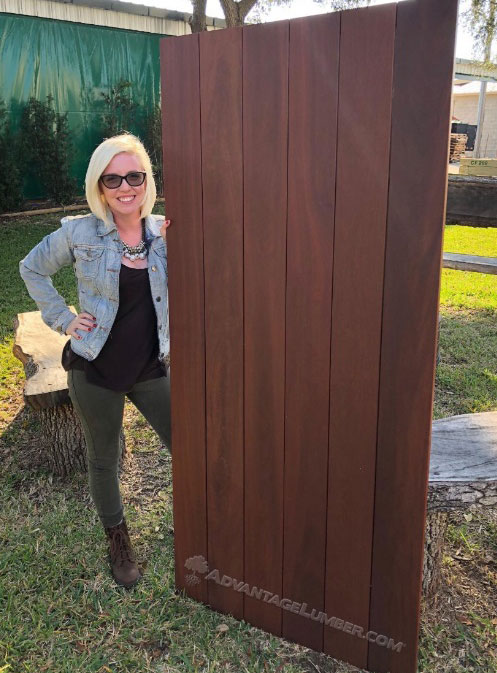 Massaranduba Decking Prices

on a profile to view a detailed drawing.
Standard Massaranduba Decking
Massaranduba 1x6 ® Standard

Learn more about

® decking.
21mm x 5 ½″
Pregrooved Massaranduba Decking
Massaranduba Tongue & Groove Porch Decking
Massaranduba 1x6 ® Tongue & Groove

Learn more about

® decking.
¾″ x 5″
FSC® Massaranduba Decking
Anti-Slip Profiles
FSC® Certified Advantage Massaranduba™ in Miami, Florida
Discover why contractor Fermin Acevedo chose FSC® Certified Massaranduba from AdvantageLumber.com to transform this home in Miami, FL. This project showcases the beauty of Advantage Massaranduba™ (also known as Brazilian Redwood) and our company's ability to supply sustainably harvested decking to your home or job site.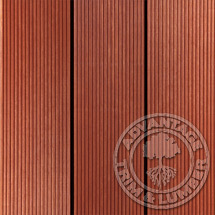 Popular in Europe, Massaranduba is a Brazilian redwood that actually lives up to its name. Boasting a 30+ year lifespan, you can enjoy outdoor living with our Massaranduba decking year round without having to worry about constant staining, or heavy duty maintenance. Here are some more reasons why our Massaranduba decking is the right choice for you:
Major savings (up to 25%) over Ipe & composites
Terrific resistance to mold, rot & decay
Ultra low maintenance
Responsibly harvested from managed forests
Lush colors from red to reddish brown
Great for the backyard deck, front porch, or business
100% natural, chemical free material
Rustic (B-Grade) Massaranduba Decking Sale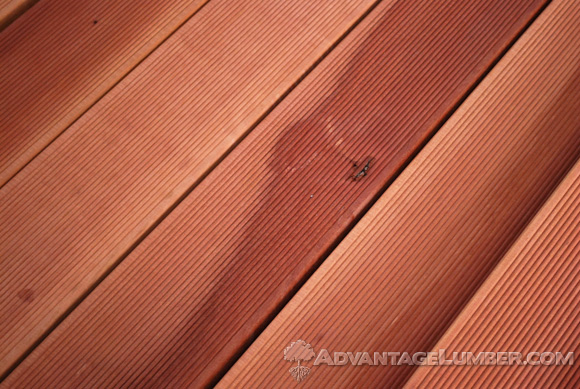 Our Massaranduba "B" grade has defects such as knots, milling errors, pin holes and other irregularities. These defects can not be included in our standard clear Massaranduba Decking. But we are offering this B-Grade Massarandube to our customers at a drastically reduced price. B-Grade Massaranduba is a great material to use on many projects including andirondak chairs, flower boxes, horse stalls, etc. Check out the savings BELOW!!!
Compare Massaranduba Decking to California Redwood

Massaranduba Decking
Brazilian Redwood Decking

California Redwood Decking
"Traditional" Redwood Decking
Appearance
Red to dark reddish brown. Straight grained and smooth. The color can be preserved using annual applications of a UV inhibiting deck oil.
Varies considerably depending on grade. Color ranges from brownish-pink to reddish brown. This is a softwood that will requiring staining if you want it to have a color.
Durability
Massaranduba is a hard, heavy wood. Very resistant to decay and termites. Average lifespan of 30+ years
Higher cost grades are more durable than most. Quick to weather and split. Treatment is required.
Strength (Load Capacity)
Over 2x stronger than California Redwood (29,200 psi)
10,000 psi
Hardness
Over 7x harder than California Redwood (3,190 Janka Hardness)
420 Janka Hardness
Maintenance
Very low maintenance with an average lifespan of 30+ years.
Periodic staining and board replacement my be required depending on age, climate and use.
Massaranduba Deck Calculator
Square Footage Calculator for Standard or Pregrooved Decking
Square Footage Calculator for T&G Porch Decking
Essential Decking Accessories for Your Massaranduba Deck
Ipe Clip®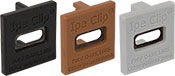 An edge-mount deck fastening system
made in the USA
by DeckWise
®
. No surface screws showing! These clips are plolymer-molded and reinforced with a stainless steel insert. They are designed for use with ¾″, 1″, or thicker material. Each pack comes with high-grade 305 stainless steel screws with painted heads and a T15 torx drive. These are the best screws available for decking and are great for salt water applications!
Learn more about the Ipe Clip® system.
Ipe Oil™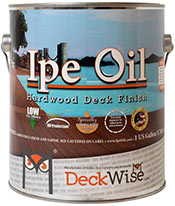 VOC Compliant. Specially formulated for use on Ipe and other exotic hardwood products, this finish is perfect for all the decking species that we offer. Ipe Oil
™
offers excellent UV protection that will keep your deck as beautiful as the day it was installed. 1 gallon covers approximately 300 square feet.
Learn more about Ipe Oil™.
Ipe Seal™ End Sealer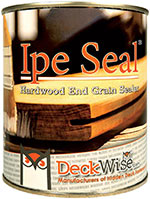 End sealer for coating end grain cuts. Approximately 1 quart for every 500 square feet of decking.
Hardwood Wrench™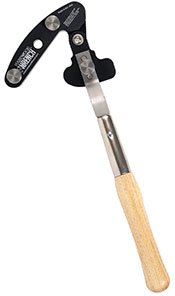 The DeckWise
®
self-locking board-straightening tool offers 1,100 pounds of force. This
made-in-the-USA
tools will hold deck boards straight, leaving your hands free to install fasteners. It locks into place and provides much more bending power than other straightening methods.
Learn more about the Hardwood Wrench™.
DeckWise® Decking Screws
Reliability and high quality are the standards the DeckWise decking screws live by. Made from 305 stainless steel, the DeckWise® screws are made to last in marine environments, snowy mountain climates, humid tropical regions, or dry deserts. DeckWise® screws feature:
T-15 Star Drive Tips to improve stripping resistance during installation.
Auger Tips for smoother installation on hard and dense wood like Ipe.
#8 x 2″, 305 Stainless T15 Star Drive Screws

100 pcs.
#8 x 2″, 305 Stainless T15 Star Drive Screws

350 pcs.
#8 x 2″, 305 Stainless T15 Star Drive Screws

1050 pcs.
#8 x 2″, 305 Stainless T15 Star Drive Screws

1750 pcs.
SEE OUR COMPLETE LINE OF DECK ACCESSORIES >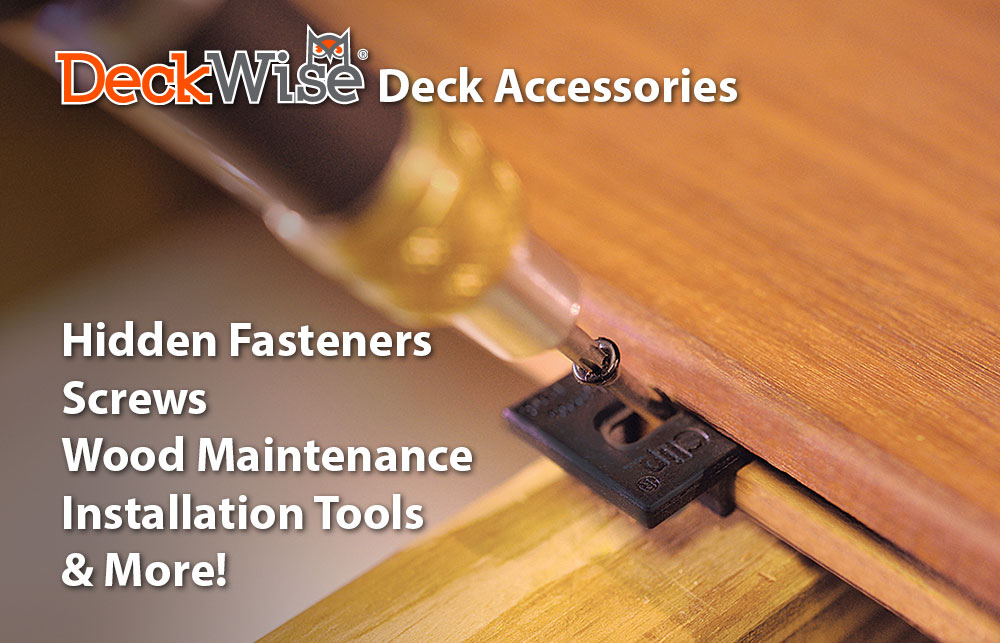 Compare Massaranduba Decking! - Compare the available hardwood deck options. Read the comparison here and then give us a Call (1.877.232.3915) . By any measure (hardness, strength, durability, appearance), our Massaranduba Decking is clearly a superior decking material across the board. Don't take our word for it, ask for a sample. Our Massaranduba Decking speaks for itself! All Massaranduba Decking is not the same there are different grades available, Call (1.877.232.3915) one of our representatives today to learn the difference. Our mills in Brazil cut only the finest logs for our decking production.
Massaranduba Shipping Times
City, State
Time
City, State
Time
Baltimore , Maryland (MD)
1-2 Days
Minneapolis, Minnesota (MN)
3-5 Days
Boston, Massachusetts (MA)
2-3 Days
Nashville, Tennessee (TN)
2-3 Days
Charlotte, North Carolina (NC)
1-2 Days
Orlando, Florida (FL)
1-2 Days
Chicago, Illinois (IL)
2-4 Days
Philadelphia,
Pennsylvania (PA)
1-2 Days
Cincinnati, Ohio (OH)
1-2 Days
Pittsburgh, Pennsylvania (PA)
1-2 Days
Dallas, Texas (TX)
3-4 Days
Raleigh, North Carolina (NC)
1-2 Days
Denver, Colorado (CO)
4-5 Days
Richmond, Virginia (VA)
1-2 Days
Greenville, South Carolina (SC)
1-2 Days
Salt Lake City, Utah (UT)
4-5 Days
Kansas City, Missouri (MO)
3-4 Days
San Diego, California (CA)
1-2 Days
Long Island, New York (NY)
1-3 Days
San Francisco, California (CA)
1-2 Days
Los Angeles, California (CA)
1-2 Days
Seattle, Washington (WA)
5+ Days
Memphis, Tennessee (TN)
2-3 Days
Tampa, Florida (FL)
1-2 Days
New Jersey
1-3 Days
NJ Coast
1-3 Days
Shipping Times May VARY... Please Contact Us For Exact Shipping Times and Rates