Massaranduba Decking & Supplies
Also known as: Manilkara bidentata, Brazilian Redwood, Macaranduba, Bullet wood, Red balata
Massaranduba (pronounced ma-sa-ran-DOO-bah) is a hardwood native to South America. It bears the distinction of being one of the most beautiful and hardest woods in the world. One surprising fact about this natural hardwood is how well it performs under heavy load (bending strength) tests. These tests revealed that, as a decking material, Massaranduba is twice as strong as California Redwood and is even stronger than Ipe decking.
Sure, those technical statistics are impressive. But, the real driving force behind the popularity of our Massaranduba decking centers on one thing...that beautiful velvet red look. Many of our customers call us asking for California Redwood only to switch when they see the rich red look of Massaranduba.
See for yourself how Massaranduba compares to Redwood decking.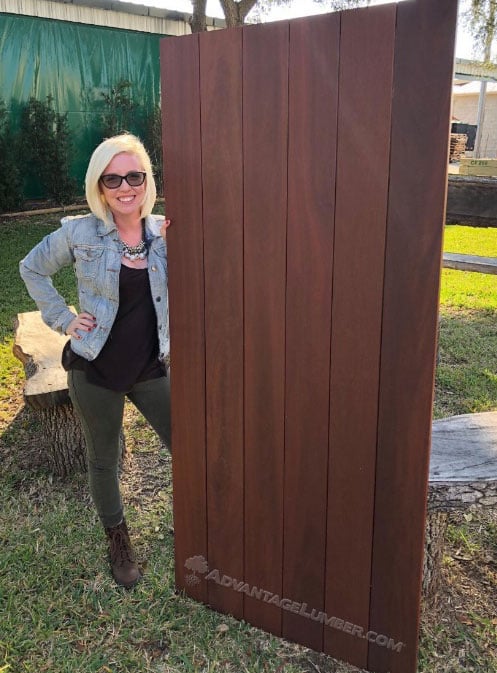 massaranduba Also Available As
Massaranduba Decking Sizes
| Nominal Size | Actual Size (Imperial) | Actual Size (Metric) |
| --- | --- | --- |
| 1x4 | 0.75″ x 3.50″ | 19mm x 90mm |
| 1x5 | 0.75″ x 4.72″ | 19mm x 120mm |
| 1x6 | 0.75″ x 5.50″ | 19mm x 140mm |
| 1x4 +Plus® | 0.83″ x 3.50″ | 21mm x 90mm |
| 1x5 +Plus® | 0.83″ x 4.72″ | 21mm x 120mm |
| 1x6 +Plus® | 0.83″ x 5.50″ | 21mm x 140mm |
| 5/4x4 | 1.00″ x 3.50″ | 25mm x 90mm |
| 5/4x5 | 1.00″ x 4.72″ | 25mm x 120mm |
| 5/4x6 | 1.00″ x 5.50″ | 25mm x 140mm |
Massaranduba Decking Prices

Decking is sold in even and odd lengths between 6′ to 18′. We can pull your order to specific lengths. There is an additional upcharge for lengths over 7′:
$0.10 per lineal foot for 8′–14′ lengths
$0.80 per lineal foot for 15′–18′ lengths
$1.00 per lineal foot for 19′–20′ lengths
Standard Massaranduba Decking
Pregrooved Massaranduba Decking
Massaranduba Tongue & Groove Porch Decking
Massaranduba Deck Tiles
Specie
Standard
FSC®
SMR®
B-Grade
24x24 Massaranduba

$38.60
per tile

$39.93
per tile


$37.27
per tile


$35.94
per tile


20x20 Massaranduba

$21.30
per tile

$22.63
per tile


$19.97
per tile


$18.63
per tile

Dimensional Massaranduba Lumber
Massaranduba Decking Trim
Anti-Slip Profiles
Tongue & Groove decking is for use under covered porches only.
All measurements are approximate and may vary slightly.
All prices are subject to change without notice.
Beware of Shady Sellers
Some unscrupulous lumber companies charge hidden extra fees, ship low-grade material, and source their wood from unethical mills. Here are some questions to ask when buying your lumber:
Where is the material shipping from?
Has the seller actually seen the wood they're selling?
Can you visit their warehouse?
Our lumber is sustainably sourced directly from well managed forest and custom milled with our own machinery. We have a huge inventory that you're welcome to visit any time, and we work with the wood ourselves, so we can guarantee its quality. We don't charge extra insurance or packaging fees—we cover those for you!
In short, if a deal seems too good to be true, it probably is. Learn more about how to avoid bad lumber companies.
Featured Project
Discover why contractor Fermin Acevedo chose FSC® Certified Massaranduba from AdvantageLumber.com to transform this home in Miami, FL. This project showcases the beauty of Advantage Massaranduba™ (a.k.a. Brazilian Redwood) and our company's ability to supply sustainably harvested decking to your home or job site.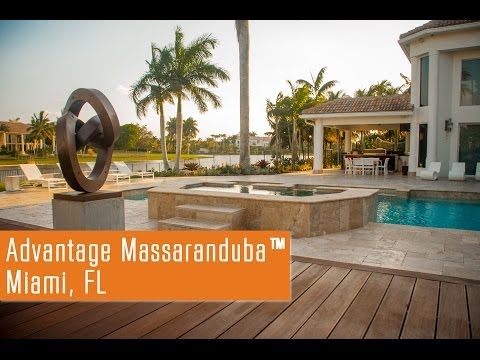 Benefits of Massaranduba Decking
Popular in Europe, Massaranduba is a Brazilian redwood that actually lives up to its name. Boasting a 30+ year lifespan, you can enjoy outdoor living with our Massaranduba decking year round without having to worry about constant staining, or heavy duty maintenance. Here are some more reasons why our Massaranduba decking is the right choice for you:
Major savings over Ipe and composites
Terrific resistance to mold, rot and decay
Ultra low maintenance
Responsibly harvested from managed forests
Lush colors from red to reddish brown
Great for the backyard deck, front porch, or business
100% natural, chemical-free material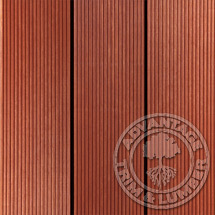 Compare Massaranduba Decking

Massaranduba Decking
Brazilian Redwood Decking

California Redwood Decking
"Traditional" Redwood Decking
Appearance
Red to dark reddish brown. Straight grained and smooth. The color can be preserved using annual applications of a UV inhibiting deck oil.
Varies considerably depending on grade. Color ranges from brownish-pink to reddish brown. This is a softwood that will requiring staining if you want it to have a color.
Durability
Massaranduba is a hard, heavy wood. Very resistant to decay and termites. Average lifespan of 30+ years
Higher cost grades are more durable than most. Quick to weather and split. Treatment is required.
Strength (Load Capacity)
Over 2x stronger than California Redwood (29,200 psi)
10,000 psi
Hardness
Over 7x harder than California Redwood (3,190 Janka Hardness)
420 Janka Hardness
Maintenance
Very low maintenance with an average lifespan of 30+ years.
Periodic staining and board replacement my be required depending on age, climate and use.
Compare the available hardwood deck options. Read the comparison here and then give us a call (1.877.232.3915) . By any measure (hardness, strength, durability, appearance), our Massaranduba Decking is clearly a superior decking material across the board. Don't take our word for it, ask for a sample. Our Massaranduba Decking speaks for itself! All Massaranduba Decking is not the same there are different grades available, call (1.877.232.3915) one of our representatives today to learn the difference. Our mills in Brazil cut only the finest logs for our decking production.
Massaranduba Deck Calculator
Use this Deck Calculator to calculate the square footage of your deck into linear footage. For more on lumber sizing be sure visit our lumber sizes page.
Massaranduba Shipping Times
| | |
| --- | --- |
| Area | Transit Time |
| Northeast States | 1 to 3 days |
| Southern States | 1 to 3 days |
| Midwest States | 2 to 5 days |
| West coast | 1 to 3 days |
| European Countries | 3 weeks |
Shipping times may vary. Please call for exact shipping times and rates.