November 2012
Newsletter Archive
Why Hollywood Stars Build with Advantage Ipe™ Decking
When the stars build or renovate their homes, they choose the best architects. Given the money involved, these architects know the materials they choose for these high-end homes must look good and meet the client's expectations. Given the stakes, it's no wonder why the architects to the stars choose quality materials like Advantage Decking®. For example, Elle Décor® magazine recently featured a Malibu home where they used Advantage Ipe™ for a deck. From the siding to the furniture, notice how the smooth, clear look of the weathered Ipe compliments every aspect of the home's exterior.
See More Pictures of Ipe in Elle Décor® Magazine »
Save NOW On Your Advantage Decking™ or Siding Order! »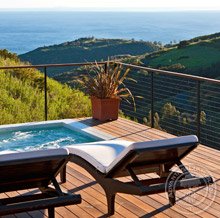 Why Is Ipe Used for Key West Docks & Marinas?
With its crystal blue water and world famous diving, Key West is one of America's most cherished tropical destinations. Because of the year round tourist traffic, the infrastructure of Key West has to hold up to a lot of things. Tropical storms and hurricanes aside, the docks, marinas, and boardwalks that are all over Key West require decking materials that are PROVEN to last. So, is it any wonder why architects, boat owners, and city managers chose Ipe decking? Read more...
See More Pictures of Ipe Decking used for Docks & Marinas in Key West, FL»
Save NOW On Your Advantage Decking™ or Siding Order! »