Ipe Decking & Supplies
Also known as: Tabebuia Serratifolia, Pau D'Arco, Ipe Tabaco, Yellow Poui, and Bethabara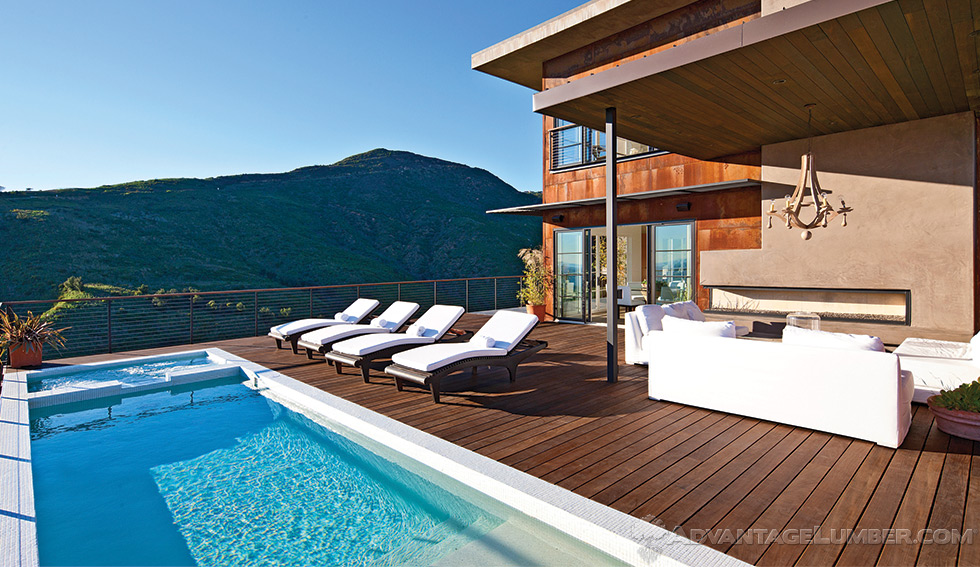 The world's best decking… Welcome to our Ipe Decking and Supplies page. Here you will find the listings for the various sustainable Ipe Decking lumber and supplies needed to build and finish your deck. We directly import our Ipe decking products from well-managed forests in South America. By working with sustainable sources, we are able to hand select the finest Ipe and provide it to our customers at great prices. Be sure to check out our Ipe Decking Reviews to find out more about this great decking material.
Rob Pelc, owner and operator of AdvantageLumber.com visits each mill to inspect and personally selects the Ipe he uses for his products. See Rob at one of the Brazilian Ipe decking mills by clicking HERE. Click HERE to see why Ipe is the best decking material in the world! If you have any questions, please contact us! Ipe is such a hard, dense wood it does require a little different method of installation than other decking. Click HERE to read more about it.
ipe Also Available As
Ipe Decking Sizes
| Nominal Size | Actual Size (Imperial) | Actual Size (Metric) |
| --- | --- | --- |
| 1x4 | 0.75″ x 3.50″ | 19mm x 90mm |
| 1x5 | 0.75″ x 4.72″ | 19mm x 120mm |
| 1x6 | 0.75″ x 5.50″ | 19mm x 140mm |
| 1x4 +Plus® | 0.83″ x 3.50″ | 21mm x 90mm |
| 1x5 +Plus® | 0.83″ x 4.72″ | 21mm x 120mm |
| 1x6 +Plus® | 0.83″ x 5.50″ | 21mm x 140mm |
| 5/4x4 | 1.00″ x 3.50″ | 25mm x 90mm |
| 5/4x5 | 1.00″ x 4.72″ | 25mm x 120mm |
| 5/4x6 | 1.00″ x 5.50″ | 25mm x 140mm |
Ipe Decking Prices

Decking is sold in even and odd lengths between 6′ to 18′. We can pull your order to specific lengths.
There is an additional upcharge for lengths over 7′:
$0.10 per lineal foot for 8′–14′ lengths
$0.80 per lineal foot for 15′–18′ lengths
$1.00 per lineal foot for 19′–20′ lengths
Standard Ipe Decking
Pregrooved Ipe Decking
Pregrooved Ipe Decking Kits
Ipe Tongue & Groove Porch Decking
Tongue & Groove Ipe Decking Kits
Ipe Deck Tiles
Specie
Standard
FSC®
SMR®
B-Grade
24x24 Ipe

$47.92 $43.13
per tile
Free Shipping!

$49.25
per tile


$46.59
per tile


$45.25
per tile


20x20 Ipe

$23.96 $21.56
per tile

$25.29
per tile


$22.63
per tile


$21.30
per tile


20x20 Ipe Anti-Slip

$23.96 $21.56

per tile


$25.29
per tile


$22.63
per tile


$21.30
per tile


24x48 Ipe

$102.49
per tile

NA


NA


NA

Dimensional Ipe Lumber
Ipe Railing System
Ipe Decking Trim
Anti-Slip Profiles
We ship Ipe decking worldwide!
Tongue & Groove decking is for use under covered porches only.
All measurements are approximate and may vary slightly.
All prices are subject to change without notice.
Beware of Shady Sellers
Some unscrupulous lumber companies charge hidden extra fees, ship low-grade material, and source their wood from unethical mills. Here are some questions to ask when buying your lumber:
Where is the material shipping from?
Has the seller actually seen the wood they're selling?
Can you visit their warehouse?
Our lumber is sustainably sourced directly from well managed forest and custom milled with our own machinery. We have a huge inventory that you're welcome to visit any time, and we work with the wood ourselves, so we can guarantee its quality. We don't charge extra insurance or packaging fees—we cover those for you!
In short, if a deal seems too good to be true, it probably is. Learn more about how to avoid bad lumber companies.
You Deserve the Best Decking
You deserve a deck that will last more than a few years. A deck that you'll spend more time enjoying it and less taking care of it. A deck where memories will be created for generations!
Our Ipe decking gives you:
Peace of mind with all natural chemical free wood.
Great performance under any weather condition thanks to its hardness.
Worry-free decking because its natural oils make it mold, rot, and termite resistance.
A great return on investment since it lasts well over 75+ years!
Featured Projects
What sets 1x6

® Ipe apart from thinner decking material? Discover what Todd Miller of Nathan-Tyler Remodeling in Boca Grande, FL was able to build using 1x6

® Advantage Ipe Decking. From the deck, to stairs, to siding, this massive deck serves as the ultimate outdoor living space.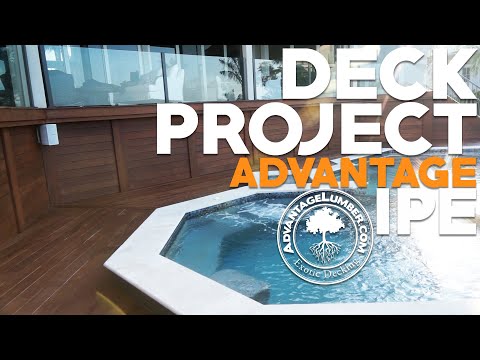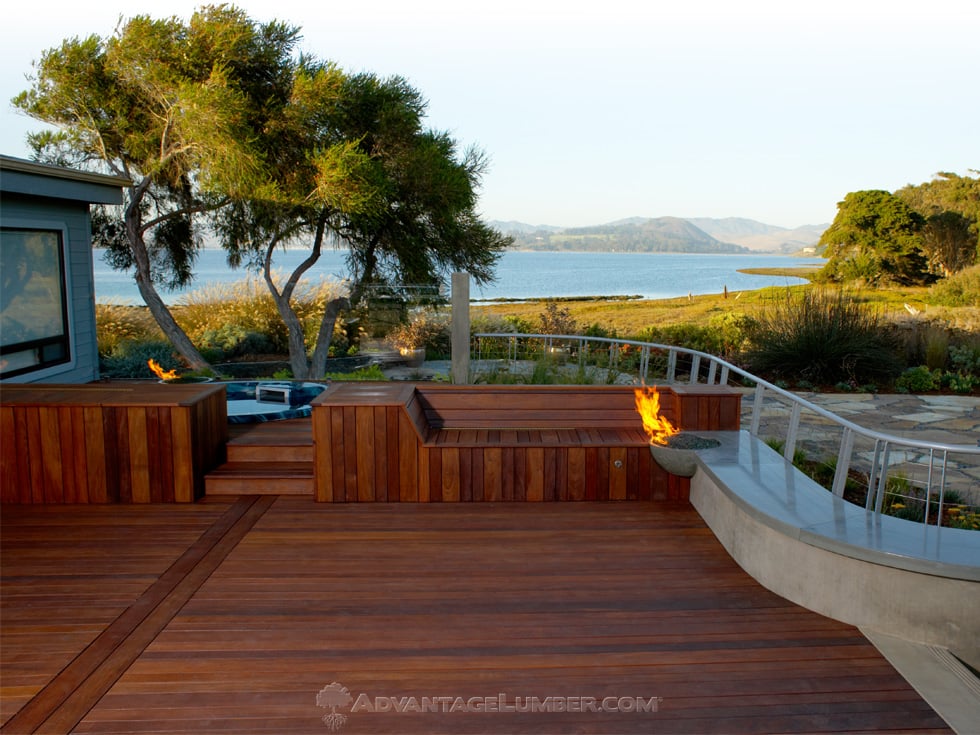 Ipe Deck with Outdoor Cooking Area
San Francisco, CA
Check It Out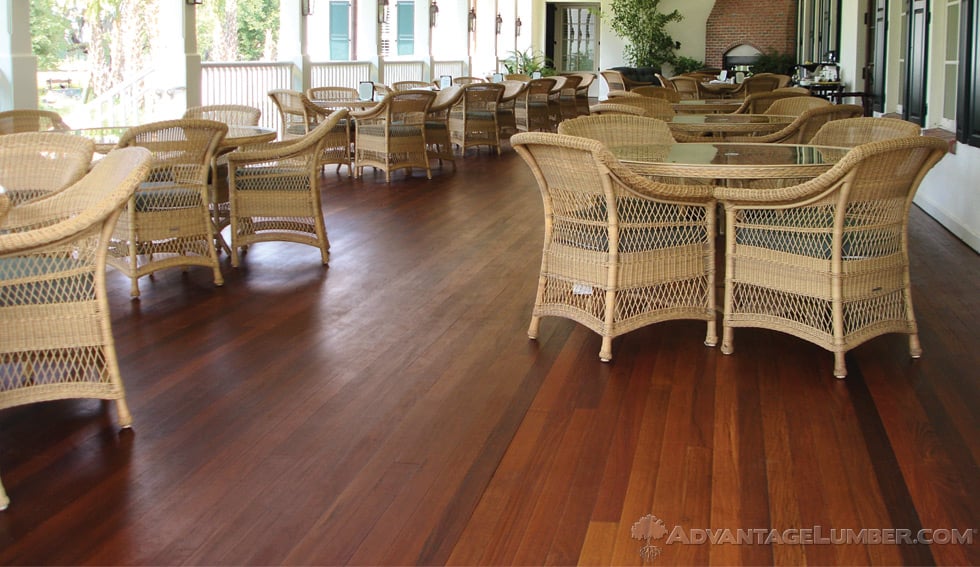 Tongue & Groove Ipe Porch Decking
Founders Club, Sarasota, FL
Check It Out
Watch Extreme Ipe Decking Tests on DeckBusters®

Watch Advantage Ipe Decking get put to the test! DeckBusters is a web series that compares today's decking under extreme conditions. Finally, a really easy way to see just how strong and durable these materials really are!
Who Are the DeckBusters®?
Ipe Deck Calculator
Use this Deck Calculator to calculate the square footage of your deck into linear footage. For more on lumber sizing be sure visit our lumber sizes page.
Ipe Shipping Times
| | |
| --- | --- |
| Area | Transit Time |
| Northeast States | 1 to 3 days |
| Southern States | 1 to 3 days |
| Midwest States | 2 to 5 days |
| West coast | 1 to 3 days |
| European Countries | 3 weeks |
Shipping times may vary. Please call for exact shipping times and rates.
Why Ipe?
Last 75+ years
We ship anywhere
Low maintenance
Termite Resistant
No knots
Can outlast composite material
Great dock material
Large selection of stock sizes
High density resist scratches
Nearly twice as strong as Oak
Better than teak
Great for Gazebos
Easy to install
Environmentally friendly
One of the strongest woods in the world
Up to a Class A fire rating for flame spread
Mold and Fungi resistant
High slip resistance
Great for benches and tables too
Up to 20 feet long
We can custom mill to your dimensions too
Time proven on many commercial and residential projects!
Tight grain = No worry of slivers
Comparably priced with composite decking choices
Available with hidden fastening system
Ipe is a type of Brazilian Walnut