August 2010
Newsletter Archive
Reclaimed - Recycled - Flooring Reinvented™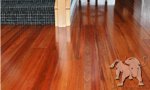 Did you know that mills that manufacture flooring across the world only use between 40-60% of a log's usable lumber? What happens to the rest?
Unfortunately, these mills toss this perfectly good lumber into landfills, or they get burned. Staybull Flooring™ solves this problem by fusing those strips of lumber to create a dimensionally superior plank that has more benefits than bamboo, engineered, and solid flooring combined.
The collection of Staybull Flooring™ is the eco-friendly wood flooring that:
Features over 20 Domestic & Exotic woods
Offers an alternative to rustic reclaimed flooring
Fits with modern and contemporary interiors
Is VOC Free & uses no formaldehyde, or other toxins
Camouflages wearand is great for kids & pets
Can be installed over cured concrete
Can be refinished many times over
Learn more about high-end recycled wood flooring & save today.
Featured Deck of the Month - Cumaru Decking in Michigan
When we first saw pictures of this Cumaru deck in Michigan, we were blown away. The luscious reddish brown color really shines. You can tell a lot of thought and careful planning went into constructing this three story deck.
Why did they choose Cumaru over Redwood and even Ipe Decking?
Cumaru was an easy choice for this family because they wanted a decking that offered a:
Warm & inviting palette of reddish brown colors
Durable surface with high scratch and slip resistance
Reliable material that will excel during the harsh Michigan winters
Premium grade wood that also resists mold, and decay
More affordable option than composite decking and Ipe
What Makes Hardwood Eco-Friendly?
All the hardwood we sell at Advantage Trim & Lumber is eco-friendly. How can we say that?
By complying with local and federal trade laws of both the United States and all the South American countries where we procure our wood, we are able to have strong ties to the most reputable and eco-friendly mills.
These partnerships help preserve the land for forestry instead of for agricultural purposes.
Can a cow really cause more damage to the environment than logging? In a word, yes.
For a more detailed explanation of how agriculture is a larger threat to native forests in South America than logging, you can read the following articles:
>> Cattle Ranching Causes Deforestation