Advantage Ipe Decking™ Kayak Launch
Versatile Brazilian Ipe Decking in Buggs Island Lake.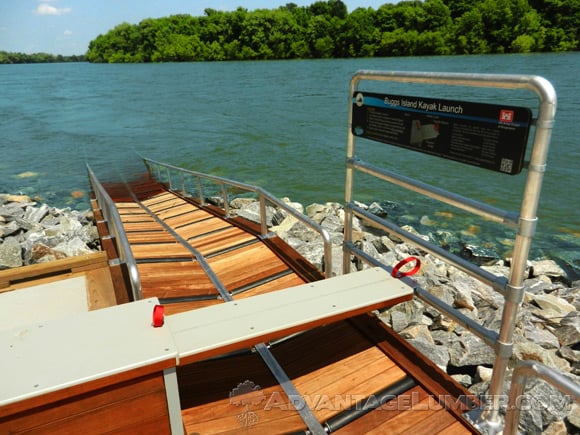 Advantage Ipe™ Used for Kayak Launch
Project Helps Disabled Veterans Enjoy the Roanoke River in Virginia
Sometimes there are projects that deserve more than simple recognition; they deserve to be praised. The Buggs Island Universally Accessible Launch is one of those projects. Constructed using Advantage Ipe , the purpose of this project is to help ordinary citizens and veterans of the armed forces with their recreational therapy. With this kayak launch, anyone who suffers from a disability can enjoy kayaking in Virginia's Roanoke River.
Advantage Ipe is naturally slip-resistant and gives excellent traction when pushing the kayak down the launch. For disabled veterans, this kind of activity is a perfect way to achieve their recreational therapy goals and enjoy the outdoors.
According to Scott Murray, the Upper Reach Regional Director, "The non-skid works great so far. It has been under water daily and I have walked on it soaking wet without problem. Thanks for a great product!"
To read more about this great cause, visit www.UpperReach.org.
Advantage Ipe is available in various widths, lengths, and profiles.
Building a wood deck? You can work with the world's leading supplier of exotic hardwoods and buy wood dock material from the convenience of your home with Advantage Lumber, LLC. Once you find the exotic wood species that appeals to you, you can:
Additional Photos of our Ipe Decking in Buggs Island Lake (Virginia):
Want to see more pictures of Ipe wood? Check out our Decking Photo gallery!
Note to members of the press:
If you need high resolution photography please contact: [email protected] and we will be happy to promptly supply you with our high resolution photography.