Teak Decking & Supplies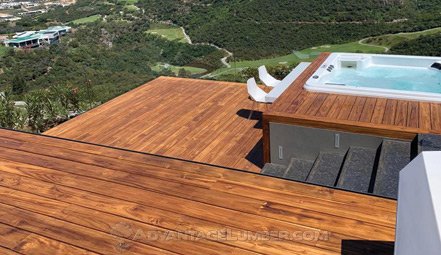 Teak Decking
High-End, Environmentally Conscious Decking
Teak (Tectona grandis) is found all over the world, in southeast Asia, the East Indies, Africa, and America. Our Teak is grown in 20–50 year plantations, which means you'll get the hardest, most durable wood without harming the environment. It's a 100% renewable product guaranteed to last!
Teak is lighter than Ipe in both color and weight. Its color ranges from yellow brown to dark golden brown, darkening with age. Because it is less dense than Ipe, Teak is also generally easier to work with.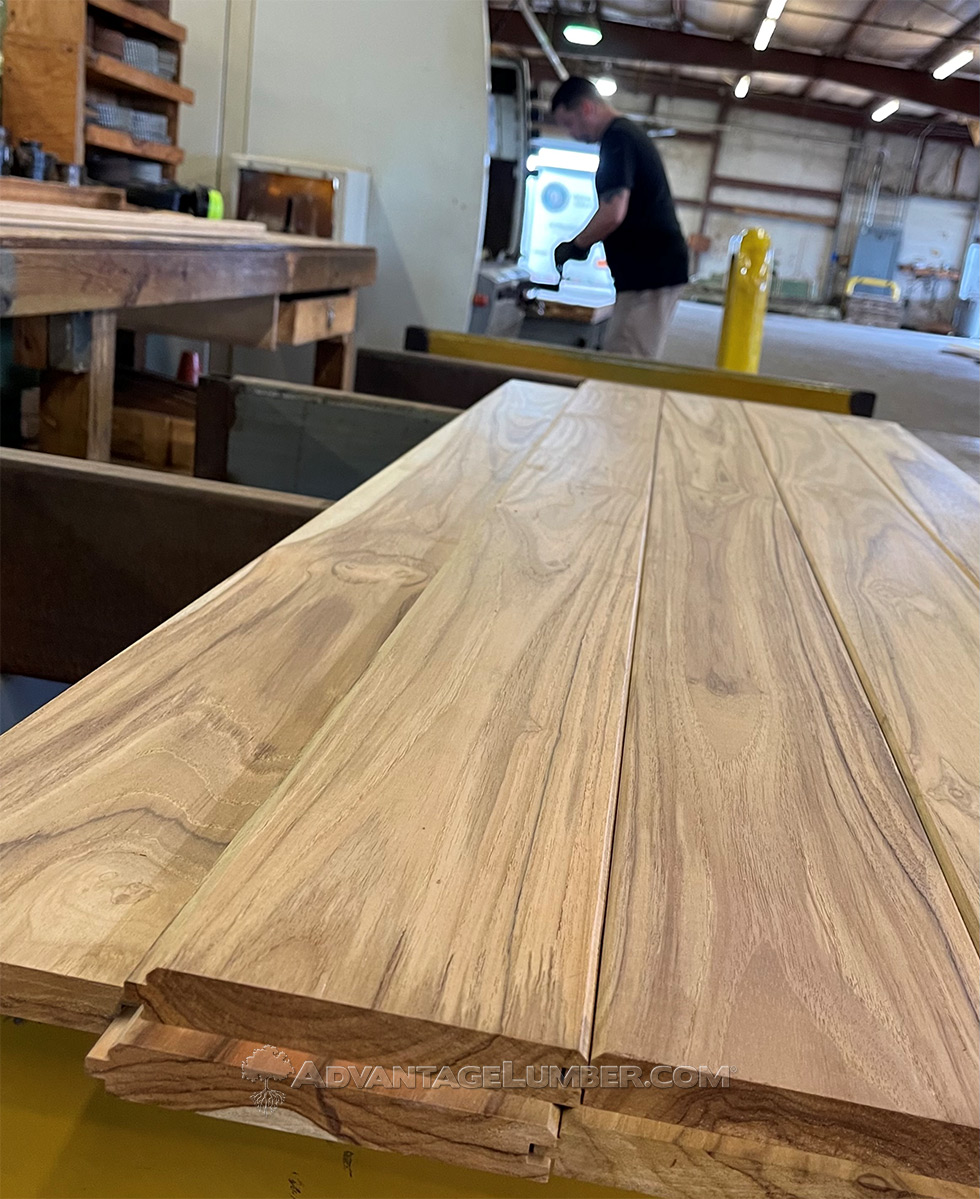 True, Genuine Teak Decking
Many people seek out genuine Teak, as some companies try to pawn off lesser quality woods (such as Afromsia) as Genuine Teak when it's not even related. When in doubt, the lumber world refers to the botanical Latin name which is Tectona grandis. All of the teak we sell is of the Tectona grandis species.
Teak Decking Prices
on a profile to view a detailed drawing.
Decking sold in even and odd lengths between 5' to 8'.
We can pull your order to specific lengths.

Standard Teak Decking
Pregrooved Teak Decking
¾″ x 5 ½″
19mm x 140mm
¾″ x 5 ½″
19mm x 140mm
Teak Tongue & Groove Porch Decking
Teak V-Groove Siding/Ceiling Prices

Beware of Shady Sellers!
Some unscrupulous lumber companies charge hidden extra fees, ship low-grade material, and source their wood from unethical mills. Here are some questions to ask when buying your lumber:
Where is the material shipping from?
Has the seller actually seen the wood they're selling?
Can you visit their warehouse?
Our lumber is sustainably sourced directly from well managed forests and custom milled with our own machinery. We have a huge inventory that you're welcome to visit any time, and we work with the wood ourselves, so we can guarantee its quality. We don't charge extra insurance or packaging fees—we cover those for you!
In short, if a deal seems too good to be true, it probably is. Learn more about how to avoid bad lumber companies.
Teak Decking Accessories Price List
Teak Plugs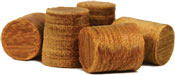 3/8″ tapered wood plugs. These DeckWise® plugs are convenient for plugging holes left in face-screwed exotic wood decking planks.
Ipe Clip®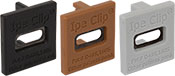 An edge-mount deck fastening system
made in the USA
by DeckWise
®
. No surface screws showing! These clips are plolymer-molded and reinforced with a stainless steel insert. They are designed for use with ¾″, 1″, or thicker material. Each pack comes with high-grade 305 stainless steel screws with painted heads and a T15 torx drive. These are the best screws available for decking and are great for salt water applications!
Learn more about the Ipe Clip® system.
Ipe Oil™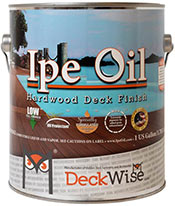 VOC Compliant. Specially formulated for use on Ipe and other exotic hardwood products, this finish is perfect for all the decking species that we offer. Ipe Oil
™
offers excellent UV protection that will keep your deck as beautiful as the day it was installed. 1 gallon covers approximately 300 square feet.
Learn more about Ipe Oil™.
Ipe Seal™ End Sealer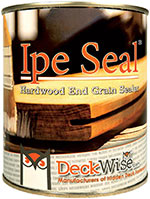 End sealer for coating end grain cuts. Approximately 1 quart for every 500 square feet of decking.
In Production, Call for Availability
Hardwood Wrench™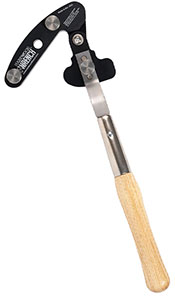 The DeckWise
®
self-locking board-straightening tool offers 1,100 pounds of force. This
made-in-the-USA
tools will hold deck boards straight, leaving your hands free to install fasteners. It locks into place and provides much more bending power than other straightening methods.
Learn more about the Hardwood Wrench™.
DeckWise® Decking Screws
Reliability and high quality are the standards the DeckWise decking screws live by. Made from 305 stainless steel, the DeckWise® screws are made to last in marine environments, snowy mountain climates, humid tropical regions, or dry deserts. DeckWise® screws feature:
T-15 Star Drive Tips to improve stripping resistance during installation.
Auger Tips for smoother installation on hard and dense wood like Ipe.
#8 x 2″, 305 Stainless T15 Star Drive Screws

100 pcs.
#8 x 2″, 305 Stainless T15 Star Drive Screws

350 pcs.
#8 x 2″, 305 Stainless T15 Star Drive Screws

1050 pcs.
#8 x 2″, 305 Stainless T15 Star Drive Screws

1750 pcs.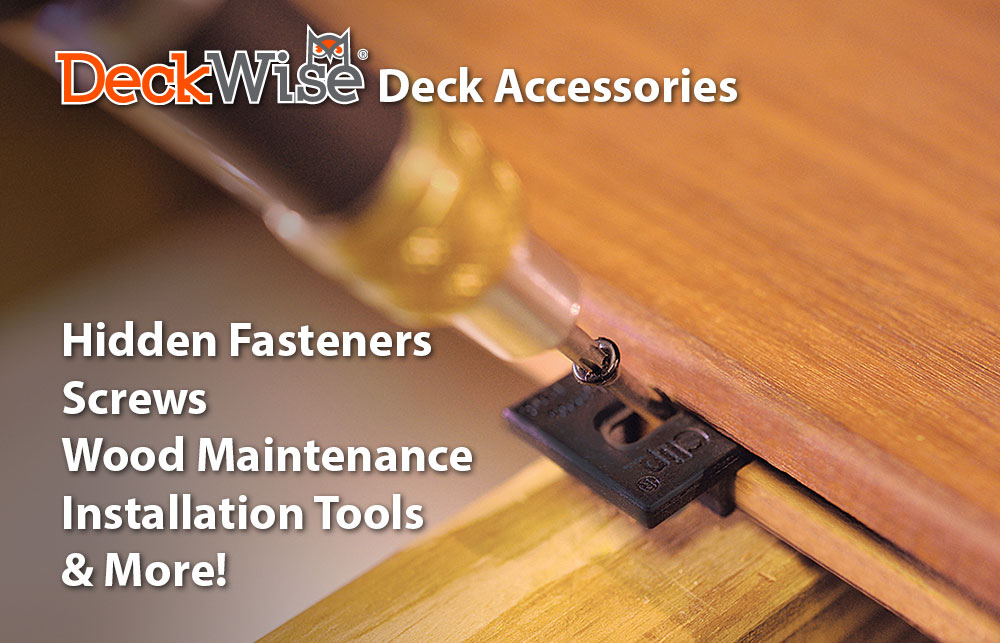 SEE OUR COMPLETE LINE OF DECK ACCESSORIES >
Teak Deck Calculator
Square Footage Calculator for Standard or Pregrooved Decking
Square Footage Calculator for T&G Porch Decking
Teak Shipping Times
City, State
Time
City, State
Time
Baltimore , Maryland (MD)
1-2 Days
Minneapolis, Minnesota (MN)
3-5 Days
Boston, Massachusetts (MA)
2-3 Days
Nashville, Tennessee (TN)
2-3 Days
Charlotte, North Carolina (NC)
1-2 Days
Orlando, Florida (FL)
1-2 Days
Chicago, Illinois (IL)
2-4 Days
Philadelphia,
Pennsylvania (PA)
1-2 Days
Cincinnati, Ohio (OH)
1-2 Days
Pittsburgh, Pennsylvania (PA)
1-2 Days
Dallas, Texas (TX)
3-4 Days
Raleigh, North Carolina (NC)
1-2 Days
Denver, Colorado (CO)
4-5 Days
Richmond, Virginia (VA)
1-2 Days
Greenville, South Carolina (SC)
1-2 Days
Salt Lake City, Utah (UT)
4-5 Days
Kansas City, Missouri (MO)
3-4 Days
San Diego, California (CA)
1-2 Days
Long Island, New York (NY)
1-3 Days
San Francisco, California (CA)
1-2 Days
Los Angeles, California (CA)
1-2 Days
Seattle, Washington (WA)
2-3 Days
Memphis, Tennessee (TN)
2-3 Days
Tampa, Florida (FL)
1-2 Days
New Jersey
1-3 Days
NJ Coast
2-3 Days
Shipping Times May VARY... Please Contact Us For Exact Shipping Times and Rates