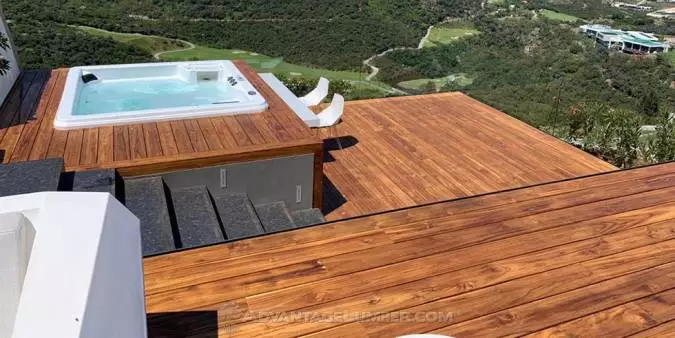 Teak (Tectona grandis) is lighter than Ipe in both color and weight. Its color ranges from yellow brown to dark golden brown, darkening with age. Because it is less dense than Ipe, Teak is also generally easier to work with.
teak Also Available As
High-End, Environmentally Conscious Decking
Teak is found all over the world, in southeast Asia, the East Indies, Africa, and America. Our Teak is grown in 20–50 year plantations, which means you'll get the hardest, most durable wood without harming the environment. It's a 100% renewable product guaranteed to last!
True, Genuine Teak Decking
Many people seek out genuine Teak Decking, as some companies try to pawn off lesser quality woods (such as Afrormosia) as Genuine Teak when it's not even related. When in doubt, the lumber world refers to the botanical Latin name which is Tectona grandis. All of the teak we sell is of the Tectona grandis species.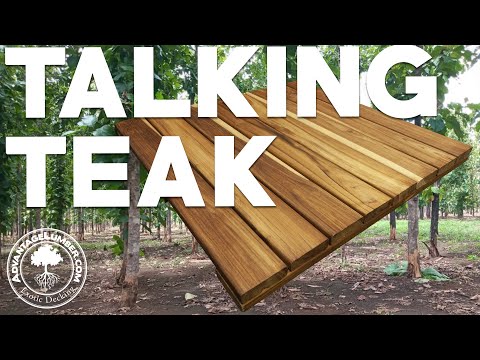 Teak Decking Sizes
| Nominal Size | Actual Size (Imperial) | Actual Size (Metric) |
| --- | --- | --- |
| 1x4 | 0.75″ x 3.50″ | 19mm x 90mm |
| 1x5 | 0.75″ x 4.72″ | 19mm x 120mm |
| 1x6 | 0.75″ x 5.50″ | 19mm x 140mm |
| 1x4 +Plus® | 0.83″ x 3.50″ | 21mm x 90mm |
| 1x5 +Plus® | 0.83″ x 4.72″ | 21mm x 120mm |
| 1x6 +Plus® | 0.83″ x 5.50″ | 21mm x 140mm |
| 5/4x4 | 1.00″ x 3.50″ | 25mm x 90mm |
| 5/4x5 | 1.00″ x 4.72″ | 25mm x 120mm |
| 5/4x6 | 1.00″ x 5.50″ | 25mm x 140mm |
Teak Decking Prices

Decking is sold in even and odd lengths between 6′ to 18′. We can pull your order to specific lengths. There is an additional upcharge for lengths over 7′:
$0.10 per lineal foot for 8′–14′ lengths
$0.80 per lineal foot for 15′–18′ lengths
$1.00 per lineal foot for 19′–20′ lengths
Standard Teak Decking
Pregrooved Teak Decking
Pregrooved Teak Decking Kits
Teak Tongue & Groove Porch Decking
Tongue & Groove Teak Decking Kits
Teak Deck Tiles
Size
Standard
FSC®
SMR®
B-Grade
24x24

47.92 $33.54
per tile
Free Shipping!

$49.25
per tile

We ship Teak decking worldwide!
Tongue & Groove decking is for use under covered porches only.
All measurements are approximate and may vary slightly.
All prices are subject to change without notice.
Beware of Shady Sellers
Some unscrupulous lumber companies charge hidden extra fees, ship low-grade material, and source their wood from unethical mills. Here are some questions to ask when buying your lumber:
Where is the material shipping from?
Has the seller actually seen the wood they're selling?
Can you visit their warehouse?
Our lumber is sustainably sourced directly from well managed forest and custom milled with our own machinery. We have a huge inventory that you're welcome to visit any time, and we work with the wood ourselves, so we can guarantee its quality. We don't charge extra insurance or packaging fees—we cover those for you!
In short, if a deal seems too good to be true, it probably is. Learn more about how to avoid bad lumber companies.
Teak Shipping Times
| | |
| --- | --- |
| Area | Transit Time |
| Northeast States | 1 to 3 days |
| Southern States | 1 to 3 days |
| Midwest States | 2 to 5 days |
| West coast | 1 to 3 days |
| European Countries | 3 weeks |
Shipping times may vary. Please call for exact shipping times and rates.