Wholesale Hardwood Flooring
Great flooring for you at wholesale prices.

Discover More About Our Wholesale Department:
Wholesale Department
Wholesale Decking
Wholesale Flooring

Wholesale Hardwood Flooring Outlet
We are able to offer excellent pricing on hardwood flooring since many of our mills that manufacture our Ipe decking also produce flooring. Our large volume of decking imports allows us to overlap our buying power on exotic flooring. We can offer our customers factory direct prices because WE ARE THE FACTORY.
So why buy from anyone else??? Other flooring providers are using MIDDLE MEN who put an up-charge on all the products that they sell. When you buy from us you can be sure the price that you are paying for your flooring will be the lowest price you will find.

Buy hardwood floors direct at Wholesale prices from Advantage Trim & Lumber Co. We will be sure to save your time and money. Contact US today!
Are you not sure what kind of hardwood flooring you are looking for??? Our hardwood flooring specialists will help you make the right choice within your budget requirements.
Flooring Specs:
Our unfinished Tongue & Groove flooring is kiln dried to 6 to 8% moisture content. Milled to excellent tolerance for a fast & easy fit.
Grade Descriptions:
Clear Grade is mostly uniform in appearance, has a limited number of character marks, and is mostly heartwood.
Select Grade is clear of knots but has more color variation than clear grade.
Natural/Common Grade flooring will have some color variation, mineral coloring and small pin knots.
Rustic Grade flooring will have larger tight knots and the most color variation.
Flooring Grades
Brazilian Cherry Flooring
(Jatoba)
Brazilian Walnut Flooring
(Ipe)
Tigerwood Flooring
(Gonco Alves)
A Complete Look At Our Grading System
Solid Maple Hardwood Flooring
Kiln dried 6 to 8%, End matched, T&G, unfinished
-We can prefinish any of the items below for a additional charge-
-Many other species and sizes available upon request-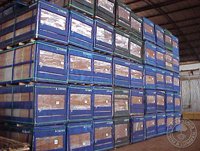 Prefinished vs. Unfinished
Brazilian Walnut Flooring
(Ipe)
Tigerwood Flooring
(Muiracatiara)
Deciding between prefinished versus unfinished hardwood floors can be difficult. But this section should help aid you in your decision. You need to consider the pros and cons of each finishing option before making a decision.
Unfinished Hardwood Flooring is delivered raw then it needs to be installed, sanded, and finished on site.
Prefinished Hardwood Flooring has been milled and finished at the factory, so it does not require any further treatment once it has been installed. All that is required is installation and you are done... no sanding or finishing is required.
Prefinished hardwood flooring is relatively quick and easy to install when compared to unfinished flooring. Since it has already been coated with a finish at the factory, it is also far more convenient as no sanding or finishing needs to be done on site. Finishing a floor is a time consuming and dusty process that you may wish to avoid.
The multi-coat, U.V. & scratch resistant finish applied at the factory gives our prefinished Hardwood Flooring a very durable wear layer and the finish itself is under a limited warranty.
However, when refinishing prefinished flooring, it is necessary to remove a lot more wood to achieve a level floor, so you will lose more life of the floor in the first refinish than with a Unfinished Ipe Floor that was finished on site.
Also prefinished hardwood floors are harder to clean between the cracks of individual flooring boards. This is because the flooring is not sealed at the job site like unfinished hardwood floors.
If you order unfinished flooring then your custom sanded hardwood floor is perfectly flat looking. This perfectly flat tabletop appearance can't be achieved with a prefinished hardwood floor. If the subfloor that the flooring being installed over is uneven, then a pre-finished floor will be uneven. Since unfinished flooring is sanded flat on site, it is more forgiving of slight irregularities in the subfloor.
Below are several questions you should ask yourself to make your decision a little easier:

Are the fumes and dust resulting from finishing the floor on-site a concern?? (eg if children or pets will be present?) - If so then maybe prefinished flooring would be a better choice for you.
Are you installing wood floors throughout the entire home, or just in isolated rooms? - If throughout your home, Unfinished Ipe Flooring may be best. This is because having your floors finished on site will help ensure a more uniform color and finish.
What is your budget? - Typically unfinished flooring is the more expensive option once installation and finishing of the floor is completed.
For items on this page please contact our wholesale division.

Email:WBlair@advantagelumber.com
Direct Phone: (704)-471-9991
Wholesale Quote Form
Prefinished T&G Hardwood Flooring
CALL US FOR THE LATEST WHOLESALE FLOORING SPECIALS!!!
We also offer Custom Hardwood Flooring. Please click HERE for more info...

As seen on/in
PROUD members of
Advantage Trim & Lumber Proudly Accepts
Please Call Toll Free
1-877-232-3915
© 1999- Advantage Trim & Lumber. All rights reserved.
**All Trademarks and Logos are property of their respective owners**
Terms of Sale