Goncalo Alves (Tigerwood)


PHOTO

DESCRIPTION
Goncalo Alves is reddish-brown in color, richly mottled and with dark brown streaks and spots similar to Rosewood. Grain is irregular, and interlocked with alternating layers of hard and soft wood. Texture is medium.
Weight is 59lbs per cu. ft.
COUNTRY OF
ORIGIN
South America (Brazil)
BOTANICAL NAME
Astronium Fraxinifolium or Astronium Lecointei
OTHER NAMES
Tigerwood, Brazilian Koa, Muiracatiara, Zebrawood, Urunday-Para, Mura, Bois De Zebre, Chibatao, Guarita, Aderno
MECHANICAL PROPERTIES
Strong in all categories and is not used in steam bending.
WORKING PROPERTIES
Difficult to work. Moderate to severe blunting effect on cutters. Requires reduced angle cutting due to hard and soft layers and irregular grain. Pre-drilling is required for nailing, but holds screws well. Glues easily and finishes with a high natural polish.
DURABILITY
Highly durable. Not subject to beetle attack. Extremely resistant to preservative treatment.
SEASONING
Difficult to dry with strong tendency to warp and check. Should be air dried slowly. Small movement.
USES
High-class furniture and cabinetmaking, fancy goods and decorative work. Excellent for turning. Sliced veneers used in architectural paneling and face veneering.Also used for interior hardwood flooring and exterior decking.
COMMENTS
Although sometimes called "Zebrawood", true Zebrawood is a different species.
Advantage Tigerwood Lumber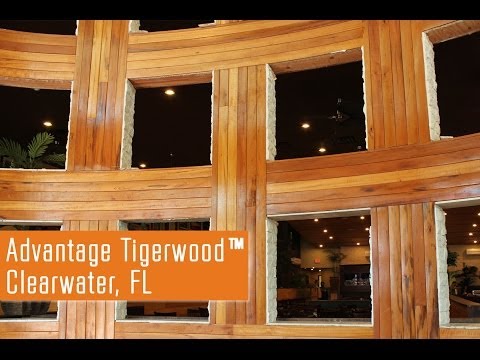 Discover how one species of Advantage Lumber (Tigerwood) helped make this new beachfront restaurant shine. Not only does Advantage Tigerwood Lumber give this tropical themed restaurant an exotic look, it also creates a relaxing atmosphere.
TIGERWOOD DECKING