Ipe Clip® Hidden Deck Fasteners
Do It Once, Do It Right, Do It Out Of Sight!™

The Ipe Clip® Line of Deck Fasteners Gap Spacing
IPE CLIP® Extreme® Fastener Systems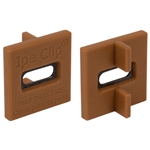 Gap Spacing: 3/32" Gap Spacing
Recommended For Use With: Ipe Decking
Specifications: Heavy Duty Fiberglass/ Stainless Steel Reinforced For Air-Dried Decking
Complete Kit:
COMPONENTS
(175) IPE CLIP® EXTREME® Hidden Deck Fasteners
(190) Stainless Steel Torx Drive Screws
(12) 3/8" Tapered Ipe plugs
(1) 1/8" High Speed Drill Bit
(1) Screw Gun Driver Bit
(1) Instruction Sheet
100 Count Kit:
COMPONENTS
(100) IPE CLIP® EXTREME® Hidden Deck Fasteners
(100) Stainless Steel Torx Drive Screws
(1) Instruction Sheet
Ipe Clip® Extreme® Fastener Pricing
IPE CLIP® Extreme4® Fastener Systems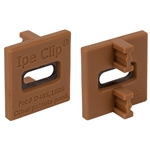 Gap Spacing: 5/32" Gap Spacing
Recommended For Use With: Ipe, Cumaru, Tigerwood or Garapa Decking
Specifications: Heavy Duty Fiberglass/ Stainless Steel Reinforced For Air-Dried Decking
Complete Kit:
COMPONENTS
(175) IPE CLIP® EXTREME4® Hidden Deck Fasteners
(190) Stainless Steel Torx Drive Screws
(12) 3/8" Tapered Ipe plugs
(1) 1/8" High Speed Drill Bit
(1) Screw Gun Driver Bit
(1) Instruction Sheet
100 Count Kit:
COMPONENTS
(100) IPE CLIP® EXTREME4® Hidden Deck Fasteners
(100) Stainless Steel Torx Drive Screws
(1) Instruction Sheet
Ipe Clip® Extreme4® Fastener Pricing
IPE CLIP® ExtremeS® Fastener Systems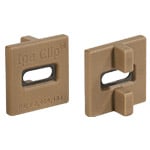 Gap Spacing: 5/32" Gap Spacing
Recommended For Use With: Ipe, Cumaru, Tigerwood or Garapa Decking
Specifications: Heavy Duty Fiberglass/ Stainless Steel Reinforced For Air-Dried Decking
Complete Kit:
COMPONENTS
(175) IPE CLIP® EXTREMES® Hidden Deck Fasteners
(190) Stainless Steel Torx Drive Screws
(12) 3/8" Tapered Ipe plugs
(1) 1/8" High Speed Drill Bit
(1) Screw Gun Driver Bit
(1) Instruction Sheet
100 Count Kit:
COMPONENTS
(100) IPE CLIP® EXTREMES® Hidden Deck Fasteners
(100) Stainless Steel Torx Drive Screws
(1) Instruction Sheet
Ipe Clip® Extreme S® Fastener Pricing
IPE CLIP® ExtremeKD® Fastener Systems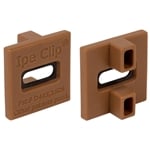 Gap Spacing: 1/4" Gap Spacing
Recommended For Use With: Cumaru, Tigerwood or Garapa Decking
Specifications: Heavy Duty Stainless Steel Reinforced For Kiln-Dried Decking
Complete Kit:
COMPONENTS
(175) IPE CLIP® EXTREMEKD® Hidden Deck Fasteners
(190) Stainless Steel Torx Drive Screws
(12) 3/8" Tapered Ipe plugs
(1) 1/8" High Speed Drill Bit
(1) Screw Gun Driver Bit
(1) Instruction Sheet
100 Count Kit:
COMPONENTS
(100) IPE CLIP® EXTREMEKD® Hidden Deck Fasteners
(100) Stainless Steel Torx Drive Screws
(1) Instruction Sheet
Ipe Clip® ExtremeKD® Fastener Pricing
IPE CLIP® Standard Fastener Systems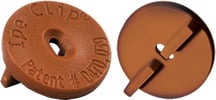 Gap Spacing: 3/32" Gap Spacing
Recommended For Use With: Ipe Decking
Specifications: Fiberglass Reinforced For Air-Dried Decking
Complete Kit:
COMPONENTS
(175) IPE CLIP® Hidden Deck Fasteners
(190) Stainless Steel Torx Drive Screws
(12) 3/8" Tapered Ipe plugs
(1) 1/8" High Speed Drill Bit
(1) Screw Gun Driver Bit
(1) Instruction Sheet
100 Count Kit:
COMPONENTS
(100) IPE CLIP® Hidden Deck Fasteners
(100) Stainless Steel Torx Drive Screws
(1) Instruction Sheet
Ipe Clip® Standard Fastener Pricing
Ipe Clip® Standard - Short
Ipe Clip® Standard - Tall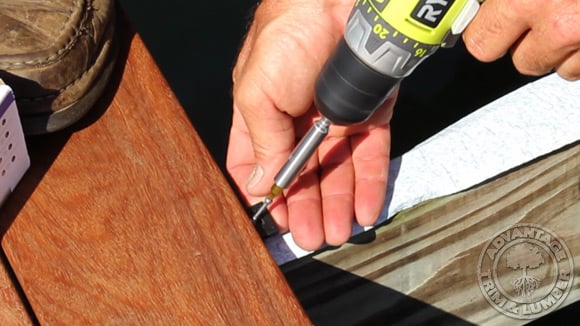 The Ipe Clip® System offers the following benefits:
No visible fasteners.
All work is performed from top side. Only a small slot needs to be cut using a biscuit jointer or router.
Spacing of deck boards is automatically set for easy installation.
Sets all deck boards to a level and uniform height.
Virtually invisible from the top or bottom of the deck. Ipe Clip® fasteners are available in black, gray or brown.
Relieves the stress caused by natural shrinkage of the deck boards.
Deck is easy to resurface and safer...no nail pop ups!
Formed from UV resistant polypropylene which has a 100 year life.
Up to 3x stronger than other fastening methods.
Only one Ipe Clip® fastener and one screw needed per joist.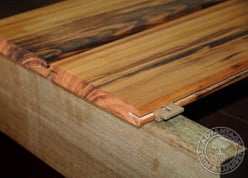 Ipe Clip® fasteners are mechanically the best way to fasten because the allow the deck boards to expand and contract on the width of the board without putting pressure on the fasteners. When decking is face screwed and the boards expand & contract through climate changes it wiggles the screws back and forth. This elongates the penetration hole of the deck screw in the joist. Therefore the screw/nail in a face screw deck can become loose and "pop" or rise above the surface of the deck board, creating a hazard. Ipe Clip® fasteners hold the boards tightly to the joist. There is no squeaking, nail pops, nail holes, or inconsistent gap spacing to worry about.