Cumaru Decking & Supplies
Also known as: Dipteryx Odorata, Brazilian Teak, and Tonquin Bean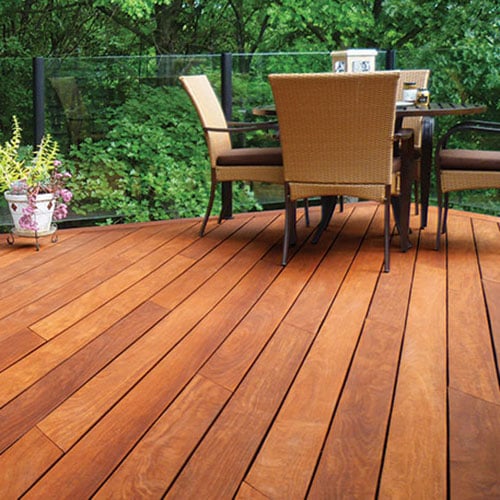 Brazilian Teak Decking
Dipteryx odorata, a.k.a. Cumaru
You Are Here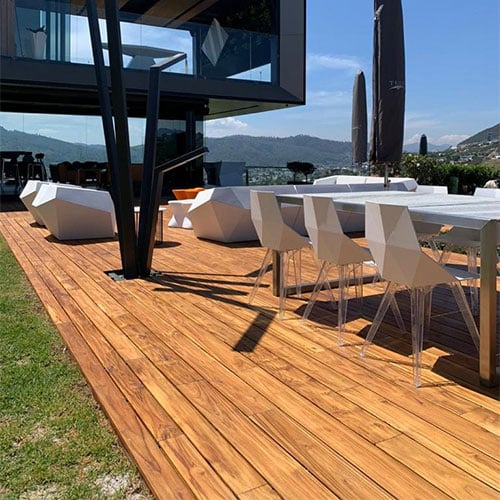 Cumaru Decking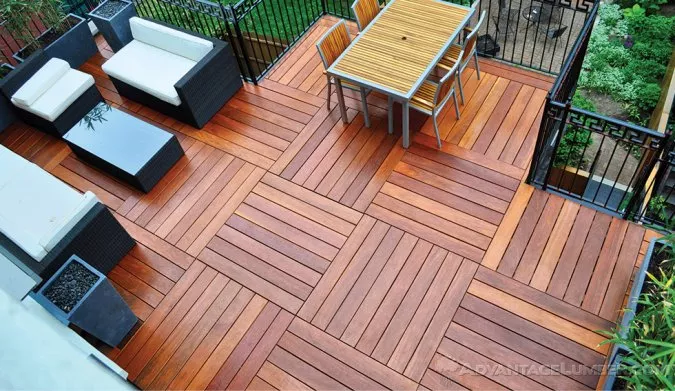 Cumaru (a.k.a Brazilian Teak, Dipteryx odorata, Almendrillo, Tonka, and Tonquin Bean) creates that carefree, inviting outdoor space you crave. When you step onto a deck made of Cumaru, you'll be presented with a rich display of golden tan to reddish brown colors and dark grain accents. Cumaru is an exotic hardwood you can count on because it naturally resists rot, decay and insect attack. Check out how Cumaru compares to ipe, teak, and composite decking.
Cumaru decking is the second hardest decking we sell. In Brazil, Cumaru is used in mansions, five-star hotels and major commercial projects. It has a 50+ year lifespan without preservatives! Our Cumaru decking is responsibly harvested from managed forests to provide a truly renewable resource. Cumaru has many benefits over teak and is available at a fraction of the cost. We ship our Cumaru decking products direct to your home or job site.
cumaru Also Available As
Featured Project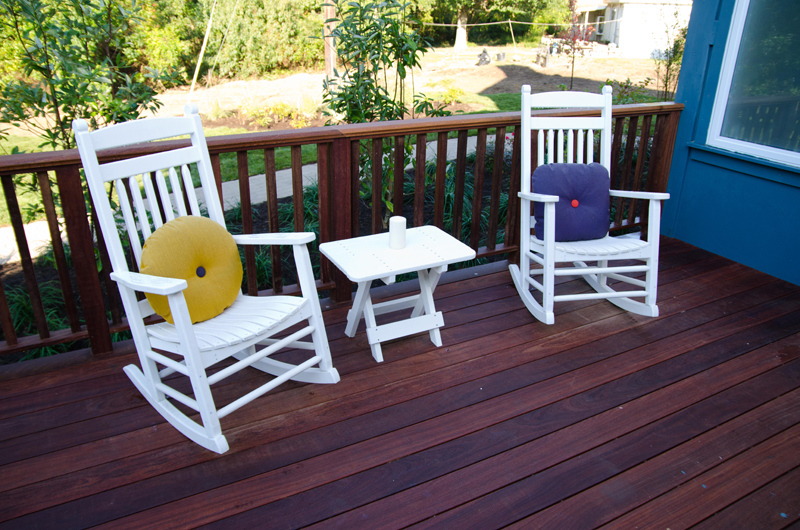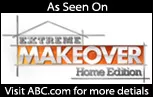 AdvantageLumber.com® was recently involved with ABC's hit TV show, Extreme Makeover: Home Edition, during their recent stop in Maryland. AdvantageLumber.com provided Cumaru Decking for multiple outdoor areas of the home.
Cumaru Decking Sizes
| Nominal Size | Actual Size (Imperial) | Actual Size (Metric) |
| --- | --- | --- |
| 1x4 | 0.75″ x 3.50″ | 19mm x 90mm |
| 1x5 | 0.75″ x 4.72″ | 19mm x 120mm |
| 1x6 | 0.75″ x 5.50″ | 19mm x 140mm |
| 1x4 +Plus® | 0.83″ x 3.50″ | 21mm x 90mm |
| 1x5 +Plus® | 0.83″ x 4.72″ | 21mm x 120mm |
| 1x6 +Plus® | 0.83″ x 5.50″ | 21mm x 140mm |
| 5/4x4 | 1.00″ x 3.50″ | 25mm x 90mm |
| 5/4x5 | 1.00″ x 4.72″ | 25mm x 120mm |
| 5/4x6 | 1.00″ x 5.50″ | 25mm x 140mm |
Cumaru Decking Prices

Decking is sold in even and odd lengths between 6′ to 18′. We can pull your order to specific lengths. There is an additional upcharge for lengths over 7′:
$0.10 per lineal foot for 8′–14′ lengths
$0.80 per lineal foot for 15′–18′ lengths
$1.00 per lineal foot for 19′–20′ lengths
Standard Cumaru Decking
Pregrooved Cumaru Decking
Pregrooved Cumaru Decking Kits
Cumaru Tongue & Groove Porch Decking
Tongue & Groove Cumaru Decking Kits
Cumaru Deck Tiles
Specie
Standard
FSC®
SMR®
B-Grade
24x24 Cumaru

$38.60
per tile

$39.93
per tile


$37.27
per tile


$35.94
per tile


20x20 Cumaru

$21.30
per tile

$22.63
per tile


$19.97
per tile


$18.63
per tile


24x48 Cumaru
$102.49
per tile

NA


NA


NA

Dimensional Cumaru Lumber
Cumaru Railing System
Cumaru Decking Trim
We ship Cumaru decking worldwide!
Tongue & Groove decking is for use under covered porches only.
All measurements are approximate and may vary slightly.
All prices are subject to change without notice.
Beware of Shady Sellers
Some unscrupulous lumber companies charge hidden extra fees, ship low-grade material, and source their wood from unethical mills. Here are some questions to ask when buying your lumber:
Where is the material shipping from?
Has the seller actually seen the wood they're selling?
Can you visit their warehouse?
Our lumber is sustainably sourced directly from well managed forest and custom milled with our own machinery. We have a huge inventory that you're welcome to visit any time, and we work with the wood ourselves, so we can guarantee its quality. We don't charge extra insurance or packaging fees—we cover those for you!
In short, if a deal seems too good to be true, it probably is. Learn more about how to avoid bad lumber companies.
Build the Deck You Deserve
Why is Cumaru decking a great choice for your home?
Excellent value? Best-in-class strength? Homeowners choose Cumaru because it is one of the only materials available that is as long-lasting, beautiful, and reliable as Ipe decking.
Save over 25% compared to Ipe & composites
Excellent mold, rot and decay resistance
Low maintenance with a 50+ years life span
Versatile in commercial or residential applications
Featured Project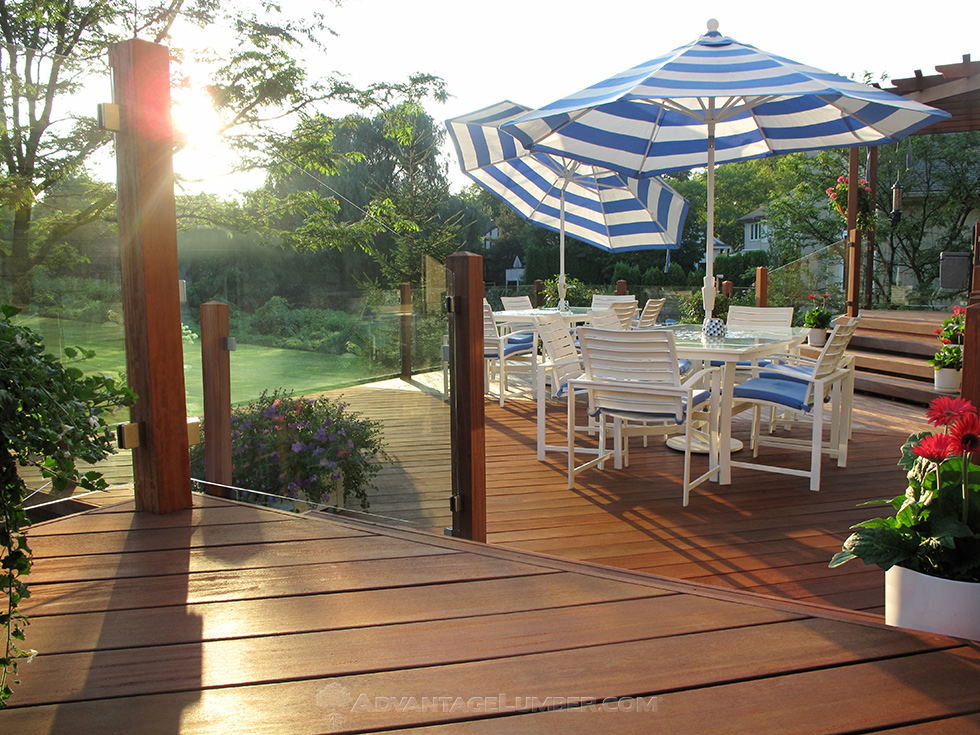 This homeowner wanted a place to relax on lazy summer nights after work but also wanted an outdoor entertainment area. These activities had to come along with low maintenance outdoor living. When reviewing all the different decking types out there the choice became an easy one. That choice was of course…Cumaru Decking!
Check Out This Project
What You Can Expect from a New Cumaru Deck
Cumaru Decking is extremely low maintenance and perfect for use in any outdoor application. Ideal for decks, porches, or sunrooms, choosing Cumaru decking is a solid and reliable choice. Check out Cumaru's specifications and photos to see what it offers in durability and looks.
See why Cole Construction, a father-and-son company, chooses to use Advantage Cumaru over other decking materials. This Advantage Cumaru dock is located in beautiful Newport Beach, California. Check out their story below in this video: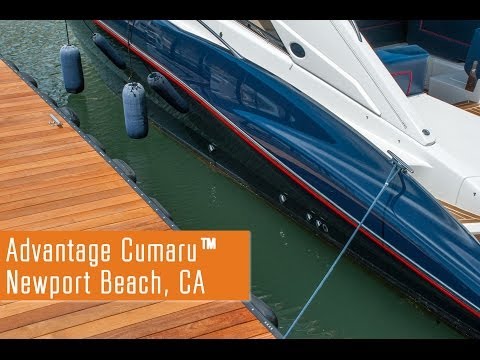 Cumaru Deck Calculator
Use this Deck Calculator to calculate the square footage of your deck into linear footage. For more on lumber sizing be sure visit our lumber sizes page.
Cumaru Shipping Times
| | |
| --- | --- |
| Area | Transit Time |
| Northeast States | 1 to 3 days |
| Southern States | 1 to 3 days |
| Midwest States | 2 to 5 days |
| West coast | 1 to 3 days |
| European Countries | 3 weeks |
Shipping times may vary. Please call for exact shipping times and rates.
Compare Cumaru Decking
Compare the available hardwood deck options. Read the comparison here and then give us a Call (1.877.232.3915). By any measure (hardness, strength, durability, appearance), our Cumaru Decking is clearly a superior decking material across the board. Don't take our word for it, ask for a sample. Our Cumaru Decking speaks for itself! All Cumaru Decking is not the same there are different grades available, Call (1.877.232.3915) one of our representatives today to learn the difference. Our mills in Brazil cut only the finest logs for our decking production.